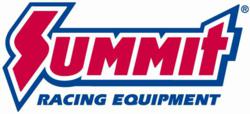 Tallmadge, OH (PRWEB) November 09, 2012
MSD's original Atomic EFI systems made fuel injection truly accessible and easy to install for anyone with a traditional carbureted V8 engine. MSD has now done the same thing for LS engines, creating a brand new, virtually bolt-on system that can support up to 1,000 horsepower.
Where the original Atomic system had the electronics and sensors built into the throttle body, the Atomic LS systems incorporate the ECU and other electronics into the fuel rails. The only wiring needed is from the fuel rail assembly to each specific sensor (all wiring uses factory connectors). The driver side fuel rail includes sensor connections for the coolant temp, coil packs, injectors, cam sensor, TPS, and fuel pressure sensor. The passenger side incorporates the crank sensor, coil packs, injectors, and other necessary sensor connections for the engine configuration. That saves time and helps keep the engine compartment looking nice and tidy.
Like the original Atomic EFI systems, The Atomic EFI LS systems have a compact Power Module that links the ECU to the electric fuel pump, electric fans, and oxygen sensor, plus connections for power and the Handheld Programmer. To set up the system, simply plug the Programmer into the Power Module and toggle through the menu screens with the joystick. Scroll up and down through a few easy parameters and your engine will be running in no time. The Handheld can be unplugged and stowed away, or left connected to view a list of functions in real time as the engine runs.
MSD has a variety of advanced features that are accessible through the Handheld Programmer:

Compatible with forced induction
Nitrous input for spark retard and nitrous A/F targets
Program different temperatures to activate two cooling fans
Advance or retard ignition timing up to 10° over the factory setting
Select a rev limit through fuel and/or ignition cut-off
Compatible with OE Variable Cam Timing Control
Built in 2-Step launch control
The MSD Atomic EFI LS systems work with return-style or returnless fuel systems, accept mechanical or electronic throttle controls, and automatically recognize 24- or 58-tooth crank trigger wheels. The Master Kits include the fuel rail assemblies with electronics, fuel injectors, wiring harness, Power Module, Handheld Programmer, and a wideband oxygen sensor.
PRODUCT LINK: http://www.summitracing.com/search/product-line/msd-atomic-ls-efi-fuel-injection-systems?keyword=MSD%20Atomic%20LS
The MSD Atomic EFI LS systems are expected to be in stock at Summit Racing in January 2013. Customers can avoid the rush and pre-order a system right now at SummitRacing.com or by phone at 1-800-230-3030.
Summit Racing Equipment
http://www.SummitRacing.com
1-800-230-3030