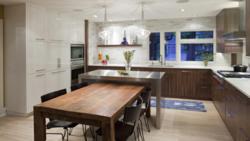 "The most challenging project is the one under your own roof," said Brandi Hagen of Eminent Interior Design, talking about designing the kitchen in her own home.
Minneapolis, Minn (PRWEB) November 10, 2012
Eminent Interior Design won two awards from the American Society of Interior Designers (ASID) – Minnesota chapter at their 2012 Awards Gala, including first place for residential kitchen design, under 250 square feet. Eminent Interior Design also received honorable mention for residential design for multiple rooms/entire residence, 800 to 2,000 square feet.
The winning kitchen design ironically was the one that Eminent Interior Design owner Brandi Hagen designed for the kitchen in her family's own home, a mid-century rambler in Golden Valley, MN.
"The most challenging project is the one right under our own roof," Hagen said. Hagen said her goal was to create a simple and contemporary space while addressing several issues typical of a 1960's rambler kitchen, including creating a more open space that connected the kitchen to the family room. The kitchen sorely needed updating; it still had the original linoleum floors and laminate countertops, and the wood cabinets were falling apart. On the plus side, the space was large and the basic layout was good, Hagen said.
Hagen introduced more light by doubling the size of the kitchen window and replacing the living room window with a much larger one. To keep the kitchen design contemporary but relaxed, Hagen chose contrasting colors and materials: dark walnut cabinets contrast with white high-gloss cabinets and a white marble tile backsplash. White-washed, rift-cut oak flooring and a stainless steel island set off the rustic oak farmhouse table that pulls out to seat eight people. Convenient pass-through windows provide easy access from the kitchen into the dining room and entertaining is much easier with the open floor plan.
Honorable mention was made of the multiple room design Hagen created for a family with four young boys. Hagen transformed the main living areas of their 1970's era Minneapolis home, employing a contemporary retro theme and using finishes and fabrics that stand up to heavy traffic.
Eminent Design
Founded in 2005, Eminent Interior Design offers a complete range of interior design services and styles, from sleek contemporary to formal traditional. Founder and owner Brandi Hagen consults with top Twin Cities' builders and remodelers on space planning, design and selection of materials, colors, finishes, fixtures, furnishings and window-treatments. Hagen has received numerous interior design awards for her residential bath, kitchen and multiple room designs from the Minnesota Chapter of the American Society of Interior Designers. She was also among community leaders listed in "40 Under Forty" by the Minneapolis-St. Paul Business Journal. For more information, visit http://www.eminentid.com.