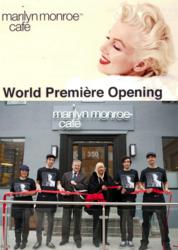 (PRWEB) November 11, 2012
Industry leaders have partnered with Authentic Brands Group to launch the first ever Marilyn Monroe™ Café, located next to Millionaires' Row (350 Lakeshore Rd. E.) along Toronto's affluent lakefront suburb of Oakville. Marilyn Monroe™ Café is celebrating its grand opening this November 9 – 11, 2012 weekend and was joined by Oakville Mayor Rob Burton who cut the official opening red ribbon.
During the November 9-11, 2012 weekend from Noon – 3 PM, café guests are invited to enjoy a free beverage of their choice, hot or iced.
Partial proceeds from the opening weekend will be donated to the Canadian Women's Foundation to help women and girls in Canada move out of violence, out of poverty and into confidence.
Furnishing by prestigious designers like Philippe Starck with Dedon, Eero Saarinen with Knoll, Diesel with Foscarin, and Tom Dixon, inspires the interpretation of the clean aesthetic and sensual lines of the mid-century modern era. A luxurious choice of materials, modern furniture and subtle architectural detail culminate into an inviting space for all guests, whether on-the-go or casually snacking and sipping premium espressos.
Captivating international audiences with her charming personality and graceful cinematic performances, Marilyn Monroe's timeless beauty and charisma are the inspiration behind the chic and contemporary Marilyn Monroe™ Café. The café is designed by Mason Studio to be a place Marilyn would be comfortable in, not a shrine, featuring a relaxed but elevated design experience with lush menu options.
The Marilyn Monroe™ Café drink menu features smoothies ranging from flavours like Mango Tango to Mint Chocolate Chip and luscious hot drinks like Red Velvet and Crème Brule Lattes made with the Ferrari of modern espresso machines, the Adonis T3; custom designed in Italy providing the perfect cup of coffee.
Breakfast goers can pair lattes with hearty organic wholesome oatmeal, New York style bagels and French Flaked Croissants. Those with something sweeter in mind have a wide number of selections from the dessert menu like Gourmet Cupcakes and Artisan Cheesecakes.
Marilyn Monroe™ Café guests can use a sleek new Mobile App called "MM Café" to order ahead of time and skip the line. The app is available on Apple iTunes, where it can be downloaded for free.
In addition, café guests' experiences will be further enhanced by stunning JBL Audio, featuring 22 speakers of complete clarity. Music programming is selected digitally by the vibe of the songs' algorithms. The sound system automatically sets the volume level, based upon activity in the café, a very state of the art feature.
The café features Marilyn Monroe Photographer Milton Greene's exclusive photographs of the world's most legendary blonde bombshell Marilyn Monroe. The photos featured in the café are from Marilyn's Ballerina Series, Red Sweater Series, Tennis Sweater Series and more.
A wide array of merchandise will also be available at The Marilyn Monroe™ Café, included in this collection is a Marilyn Monroe tote, canvas sleeve for laptops and the very popular iPhone case, which is currently the hot, must-have accessory among young Hollywood celebrities.
Authentic Brands Group, in partnership with Leonard Green & Partners, is an intellectual property corporation with a mandate to acquire, manage and build long-term value in prominent consumer brands. With offices in New York and Toronto, ABG's mission is to acquire and manage iconic consumer brands in apparel, sporting goods, action sports, home, celebrity, entertainment and consumer electronics and enhance brand equity through best- in-class brand licensee and direct-to-retail partnerships. The brands ABG owns include Marilyn Monroe®, Prince®, Ektelon®, Viking®, TapouT®, Sportcraft®, Classic Sport®, Silver Star Casting Company®, Iron Star®, Hitman Fight Gear® and Sinister Brand®. http://www.authenticbrandsgroup.com
For more information, please visit: http://www.marilynmonroecafe.com
-30-
Follow Pennant Media Group on Twitter:
@PennantMedia
Like Pennant Media Group on Facebook:
https://www.facebook.com/PennantMediaGroup