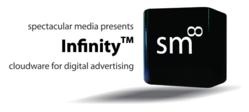 "No one should ever have to use proprietary software from large national billboards to the local business in your town." Paul Martin, Director of Marketing for Vantage LED.
Corona, CA (PRWEB) November 19, 2012
Spectacular Media has launched their revolutionary cloudware: SM Infinity™. This powerful software resides in the cloud giving clients the power to control their digital display, or network of digital displays, from any internet connected platform (PC or MAC), regardless of the display manufacturer. The SM Team collaborated with software engineers at Vantage LED, a US Based LED Display manufacturer, to formalize the final overall system design and execution for the initial launch. This premier launch includes three core features: Cloud Control, Content Creation and Universal Compatibility.
CLOUD CONTROL
No longer will software reside on clients' computers like most display operating software. SM Infinity™ is software that resides on the internet, or in the cloud. This allows the client to securely login from any PC or MAC connected to the internet to operate their display. The client does not have to worry about installing or updating software ever again. Plus, all the media and schedules for their display is securely stored in the cloud and backed up daily. Also, SM Infinity™ allows for multiple permission-based users, so the master account user can assign multiple people to control the display, but still has override capabilities at any stage. SM says, "The cloud is nice."
"We run our network of billboards with the SM Infinity platform. With the power of the cloud, we can update instantly from any location, which is vital in this market. Plus, with our platinum service, our displays "check in" regularly with diagnostic updates through SM's Command Center." states Alfredo, Exterior Media, PR.
CONTENT CREATION
Clients will never have to worry about creating effective content or "hoping someone knows how to within their business," states Steve, Lead Designer at SM. The Graphics Team behind SM Infinity™ will provide professionally designed dynamic content aimed at enhancing their clients' image with the goal of increasing traffic. Clients simply login, type in their ideas, and submit a media request for still or animated content. The Graphics Team will create the content and put it in the client's queue to be approved and sent to the display automatically. SM states, "That's it. Pure bliss."
"I would recommend it. There is so much valuable time you can spend in other areas of your business. It's just a good investment. We just request graphics through the internet, wherever we are, and it's done within 24 hours." exclaims Lisa Abdi, Kabob Hutt, CA. She adds, "After a week, we have seen a trend in clientele and increased business."
UNIVERSAL COMPATIBILITY
Say goodbye to proprietary operating software. Typically, digital display manufacturers provide proprietary software for controlling content on their displays. SM Infinity™ is compatible on any manufacturers' display allowing anyone with a digital display to sign up. Plus, this gives clients with multiple displays made by different manufacturers complete freedom by using one comprehensive software instead of learning or using multiple software platforms. SM describes the feeling as, "Overwhelming freedom, but in a good way."
"We're excited to handle this initial rollout of SM Infinity™. It has been the demand of the LED Sign Industry for years. No one should ever have to use proprietary software from large national billboards to the local business in your town. Our collaboration with SM has been exhilarating." exclaims Paul Martin, Director of Marketing for Vantage LED.
SM Infinity™ is now available starting from $100 per month (retail $375). Learn and Use SM Infinity™ today at http://www.sminfinity.com.
-
Spectacular Media (the 5th Element of Digital Advertising)
Today, we see a rough relationship between the typical Establishment and the Patrons (ie: the pizza shop and the people who love pizza, the church and the people who love God, or the car dealer and the people who love to drive).
The establishment wants the patrons to visit more and therefore embarks into Advertising with a Digital Display; and so the establishment seems happy, but we see a lot of factors left to chance (ie: learning software, creating good content, new marketing ideas, or just throwing
money out the window).
We want to create a perfect synergy between these 4 elements: the Establishment and their Patrons; their Advertising and their Digital Display.
presenting…
Spectacular Media (the 5th Element of Digital Advertising) is a software savvy, social advertising company based in Corona, CA.
With the premier release of Infinity™, cloudware for comprehensive digital advertising, we aim to meet the advertising demands of the LED digital display market (and more) creating a perfect synergy between the establishment and patron.