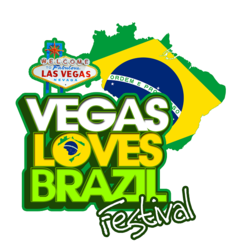 Nobody can party like the Brazilian people do. They all have so much passion. Everyone loves to dance and have a good time
Las Vegas, Nevada (PRWEB) November 12, 2012
The Vegas Loves Brazil festival will take place on Saturday, April, 13th 2013 at the Clark County Government Center Amphitheater in Las Vegas from 1:00pm to 9:00pm. Ticket prices are $5 for adults and free to children under twelve.
The event will be the first of its kind for the Las Vegas valley and showcase traditional Brazilian cultural. The festival will feature live performances from Brazilian musicians; capoeira and samba dance groups and offer some of the best Brazilian food and drinks in Las Vegas.
In addition, the festival will be extremely kid friendly with games, rides, face painting and a small city of bounce castle amusements.
The up and coming festival will be an upgrade from the smaller Vegas Loves Brazil events that took place this past summer in Las Vegas through Facebook invites between friends and acquaintances. "The response to these smaller Brazilian BBQs was great. We had a lot more people show up then we had ever anticipated. We feel Vegas is ready to embrace something like this" says festival creator and organizer Ramon van Meer.
Brazil has always been known for their love of music, dancing, food and fun, and the Vegas Loves Brazil Festival will include all of those elements and more. "Nobody can party like the Brazilian people do. They all have so much passion. Everyone loves to dance and have a good time" says Ramon van Meer.
van Meer expects the Festival to attract nearly 4000 people. In addition to the growing Brazilian community here in Las Vegas, van Meer is confident that all nationalities and age groups will appreciate and enjoy the fun festival.
For companies that want to expose their brand to the local community, Vegas Loves Brazil is offering a variety of sponsor packages to fit any budget. Visit our website for additional information about our sponsor and vendor opportunities.
For additional information and to purchase tickets visit: http://www.VegasLovesBrazil.com also find them on Facebook here: http://www.facebook.com/VegasLovesBrazil