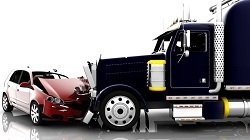 It will be very interesting indeed to watch how the federal court in Nebraska handles the issue of the unborn child.
Newport Beach, CA (PRWEB) November 11, 2012
A wrongful death lawsuit (Case Number 8:2012cv00383) that was filed by a California couple whose family was killed in a crash for the first time invokes the state's fetal death law. According to a Nov. 4 Associated Press news report, the lawsuit was filed in Nebraska District Court on Oct. 29 by Bradley and Nancy Baumann, parents of Christopher and Diana Schmidt who were killed along with their children in the crash.
The report states that the Schmidts were traveling in separate cars on Sept. 9 when a large truck driven by Josef Slezak rammed into the back of Christopher Schmidt's car. The force of the collision pushed his car into his pregnant wife's vehicle, which was crushed under the semi, the report states. The couple, their two children and their unborn son, died instantly. The AP report states that this is the first civil lawsuit to cite the 2003 Nebraska state law, which has been controversial over the years. So far, prosecutors have only used this state law to charge motorists who contributed to fatal accidents, the report states.
In this case, the truck driver, who officials say struck Schmidt's car at 75 mph without hitting the brakes, has been charged with vehicular manslaughter, vehicular homicide and one count of vehicular homicide of an unborn child, the report states. The lawsuit alleges that Slezak violated federal hours-of-service rules by staying on the road far longer than the maximum time allowed for truckers.
"I offer my deepest condolences to the family members and friends of the Schmidts who are grieving this terrible loss," said John Bisnar, founder of the Bisnar | Chase personal injury law firm.
Truck drivers and trucking companies are required to follow several federal safety regulations including the hours-of-service regulations, which require truckers to be off-duty for at least 10 hours before they can drive, said Bisnar. "Fatigued truck drivers who are pushing unrealistic deadlines and trucking firms that ignore violations of these rules must be held accountable. These regulations are in place to ensure that safety of the traveling public."
It will be very interesting indeed to watch how the federal court in Nebraska handles the issue of the unborn child, says Bisnar. "In my opinion, losing a child is emotionally devastating for a parent or grandparent – regardless of whether that child is inside or outside the womb. But, how the federal courts interpret this state law in a civil wrongful death case could set an important precedent on the matter."
About Bisnar | Chase
The California wrongful death attorneys of Bisnar | Chase represent victims of auto accidents, defective products, dangerous roadways, and many other personal injuries. The firm has been featured on a number of popular media outlets including Newsweek, Fox, NBC, and ABC and is known for its passionate pursuit of results for their clients. Since 1978, Bisnar | Chase has recovered millions of dollars for victims of auto accidents, auto defects and dangerously designed and/or maintained roadways.
For more information, please call 800-561-4887 or visit http://www.bestattorney.com for a free consultation.
Sources: http://www.sfgate.com/news/crime/article/Neb-crash-lawsuit-invokes-fetal-death-law-4007073.php
http://dockets.justia.com/docket/nebraska/nedce/8:2012cv00383/60774/