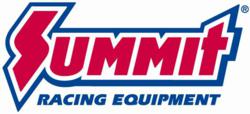 Tallmadge, OH (PRWEB) November 13, 2012
Before the Phantom Stealth, the only options for installing an in-tank fuel pump capable of handling EFI engines were a fuel cell or an expensive custom-fabricated tank.
The Phantom Fuel System is a complete kit with everything needed to install a fuel pump and baffle/basket into almost any fuel tank: an Aeromotive 340 Stealth Fuel Pump, a black anodized hanger assembly, and an internal baffle to control fuel slosh and keep the fuel pump submerged. Aeromotive made the entire system modular—it can be cut to height to fit almost any tank, even ones as shallow as 6 inches in depth. That means an enthusiast can use a factory tank or a reproduction to retain that stock look and to keep cost down.
By putting the fuel pump in the tank, issues like cavitation and vapor lock are virtually eliminated because the pump is constantly submerged in cool fuel. Plus, the baffle/basket controls fuel slosh by keeping fuel at the pickup point (the pump) at all times.
The Phantom Stealth Fuel System can be used on EFI or carbureted engines simply by swapping on the appropriate fuel pressure regulator.
Features and Specifications
• 340 Stealth Fuel Pump supports up to 700 horsepower (EFI supercharged) or 1000 horsepower (carbureted supercharged)

Pump Free Flow Rate/Maximum Pressure: 340 lph/90 psi
Black anodized hanger assembly
Three -6 AN ports (supply, return, vent)
• Fuel resistant baffle/basket with foam and bladder

Universal high flow pre-pump filter
Modular design can be cut to height to fit tanks from 6 to 12 inches deep
Turbine pump mechanism increases durability
Must be used with a return-style system
Part Number: AEI-18688
Summit Racing also stocks Aeromotive's complete Stealth Fuel Tanks for 1967-69 Camaro and Firebird. The silver powdercoated steel tanks fit in the stock location, are baffled to control fuel slosh, and come with a 340 Stealth pump, a preinstalled 90-0 ohm GM sender, and required hose and hardware.
Summit Racing Equipment
http://www.SummitRacing.com
1-800-230-3030