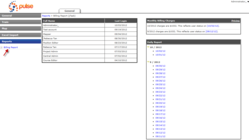 We have responded to user requests by making the billing reports available to selected users, within Pulse, Mario Cristiani, jTask principal.
Palo Alto, California (PRWEB) November 09, 2012
Two months ago jTask totally rebranded Pulse, the web-based organizational change management tool that their software upgrade and implementation customers can use to manage their role-to-position mapping, end-user training development and project communications.
This month, more enhancements are available to support Pulse users. The new features include general updates to user preferences, edits to the new Communications module, SaaS Billing Reporting and an updated user authentication interface and security model.
Release 3.4.1 Updates:
Communicate module edits and general layout updates to User Preferences

In the Communications module communication response ratings values are more easily viewed
Also in Communications module, the stakeholder list can be filtered into end-users or core team
Several of the views have been modified so that lists are not so long or extending off the page.
We've made the views more specific to the various classes of users so that they're easier to navigate and find information
SaaS Billing
click link for a view of the Saas billing screen
This will make it easier for managers to evaluate and predict usage requirements or to verify they are being invoiced correctly.
Updated User Authentication interface and security model
click link to view updated user authentication and security screen
Pulse users can now see a newly redesigned authentication interface. The authentication table has been streamlined and the individual access roles have been better organized.
About the Company
For the past ten years, jTask, Inc. has specialized in providing Organizational Change Management (OCM) products and services to companies that are installing or upgrading ERP applications to operate their businesses. jTask OCM services include change management, end-user training development and project communications, serving industries from finance, to semiconductor, to software.
All jTask consultants have extensive experience in Organizational Change Management as well as practical experience of ERP installations and upgrades. jTask supports the standards developed by the Project Management Institute and encourages all its staff to become qualified.