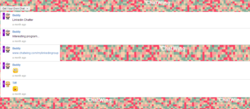 Cambridge, MA (PRWEB) November 09, 2012
The Chatwing Development Team is now laying a new foundation for its newly-released chat widget. Now, bloggers and web surfers will benefit a lot from Chatwing app's wide array of customization options. The latest features include background image integration, border design, easier color selections, and dashboard overhaul. With these features, the Chatwing team has ensured that using the chat app will now become easier and even more fun.
Users can now add their own background images in the Chatwing chatbox. This feature is useful for online marketers who are now ready to introduce their brands to people. Some professionals have also referred to Chatwing app as a 'simple online branding solution.' Any image can be embedded in the application, yet the Chatwing team advises people to use enticing images. It has been proven that enticing images can always drive traffic to a blog or website.
In the latest version, users can now edit the borders of Chatwing's free chat box. This feature allows users to scale the chat app properly, fitting the overall theme of their blogs. The Chatwing chatroom can also accommodate 1000 users at average, prompting interesting discussions every now and then. Chatwing admins can now set word filters in order to make the chat box appear more professional.
The Chatwing Development Team is always open for changes and advancements. This is why the team is welcoming suggestions from thousands of bloggers and web surfers across the world. With useful suggestions, Chatwing's free chat box will become highly useful in many instances.
About Chatwing.com
Chatwing.com specializes in the new field of website chat. Over years, the Chatwing team has introduced live chat widget for hundreds and thousands of blogs. The Chatwing application bridges people from many parts of the world, creating global synergy through the Internet. The shout box can be installed in just seconds, and it can be used for varying purposes such as leisure and Internet marketing. It also allows a user to customize the size, color, and name of the widget. Chatwing is 100% free for everyone.