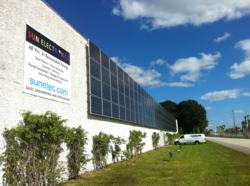 I wouldn't normally install panels vertically on a wall, but in this case I made an exception since they function as a billboard
Miami, FL (PRWEB) November 11, 2012
The impressive 2,510 square feet of glittering solar panels covering Sun Electronics' master warehouse at 2001 Northwest 167th St. is the largest solar panel project to date in Miami Florida. The expanse of 156 individually mounted panels produces approximately 30 kilowatts at maximum power.
Sun Electronic's CEO John Kimball says the vertically mounted panels will act as a unique billboard, providing renewable energy advertising for his business with their commanding view of the Palmetto Expressway. The solar panels also power all of his building's electricity. It's only appropriate that a company that has been in the solar panel business for more than 40 years should harness its energy from the sun state's most abundant resource.
The solar system was installed by GeoSolar Energy Systems, a company owned by Amir Abtahi, professor of mechanical and solar engineering at Florida Atlantic University.
"I wouldn't normally install panels vertically on a wall, but in this case I made an exception since they function as a billboard," Abtahi says.
Even though the panels are mounted vertically they still produce plenty of solar power. The solar panels will reach their peak energy output in December when the sun sinks low on the horizon.
Each individual solar panel in the system is only 1.6 inches thick, 37.5 inches wide and 61.8 inches tall. The system is made up of 10 different sub-arrays that combine into five major arrays. These feed electricity into five individual 6,000 watt inverters, used to convert the direct current captured by the sun into alternating current used by ordinary appliances.
The heavy duty aluminum supporting the gigantic array of solar panels is also designed to withstand 200 mile per hour winds. This rating exceeds the 175 mph requirement a solar system is required to meet under the guidelines of the Florida Building Code, according to Abtahi.
Sun Electronics' new array and new warehouse is a firm indicator that Miami and the sun shine state are embracing the future of clean renewable energy.
Contact us for more information.