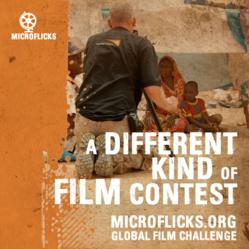 'We want to bring microfinance into focus and get the public to understand its role in bringing people out of poverty for good. These filmmakers will do just that,' says David Knights, Global Director of Marketing & Fundraising for VisionFund
Los Angeles, CA (PRWEB) November 12, 2012
MicroFlicks, a new global film challenge, is calling for filmmakers around the world to enter a competition and win a once-in-a-lifetime experience. MicroFlicks will send five outstanding filmmakers on an expense-paid trip to five unique and exciting locations in Africa, Asia, and Latin America. The aim of the contest is to produce films that illuminate microfinance and inspire millions.
MicroFlicks is hosted by World Vision, a global humanitarian and relief organisation, and its microfinance subsidiary, VisionFund. All five finalists will compete head-to-head in a global online competition that will crown one film the "Microfinance Film of 2013" in June 2013. 'This is not just an exciting opportunity for filmmakers, it's an exciting opportunity for the work of VisionFund,' says David Knights, Global Director of Marketing & Fundraising for VisionFund International. 'We want to bring microfinance into focus and get the public to understand its role in bringing people out of poverty for good. These filmmakers will do just that.'
To compete for exposure, awards, and prizes, VisionFund encourages all filmmakers to visit http://www.MicroFlicks.org and send in an example of their best work by December 31, 2012. There is no cost to apply, and all filmmakers from around the world are encouraged to enter. If you are a passionate filmmaker, and are interested in being sent to an exciting location to create a film that could impact millions and change your life, apply today.
For more information and to apply online, visit: http://www.MicroFlicks.org .
About VisionFund and World Vision
Lending Vision Since 2003
VisionFund improves the lives of children in the developing world by offering small loans and other financial services to families living in poverty. Our work empowers our clients to grow successful businesses which enable children to grow up with improved health and education. Our network of microfinance institutes spans 35 countries in Asia, Africa, Latin America and the Caribbean, and the Middle East and Eastern Europe. Working in partnership with World Vision, a Christian relief, development and advocacy organisation, we are committed to long-term change, which will unlock potential for future generations.