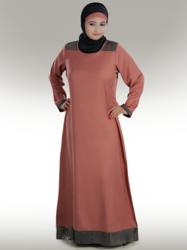 Any Size, Any Length; We Customize for YOU
(PRWEB) November 10, 2012
Get into the world of heavenly and sensitive Hijabs, kurtis, abayas and Jilbabs, each one holding a wonderful reflection of developing expertise and unique motivation across the Muslim woman. Fashionable clothing range for Muslim woman from MyBatua.com come in all styles with a choice of customization and affordability. As customers click on various segments, they find a range of women clothing that creates their exclusive style statement. Store offers Islamic outfits with a contemporary look. Jilbabs made from natural fabric and with contemporary texture. The new collection at the store fulfills all above.
At mybatua.com, an extensive range of Islamic clothing is available as Muslim men and women use different kinds of Islamic clothing. The new collection offers appropriate winter season Islamic cloths, woven and knitted fabrics to sustain the winter season. MyBatua, is extremely pleased to bring the best choices of stylish Islamic women outfits at affordable prices. The store merges the latest international fashion trends from the best and most sensitive embroideries and elaborations in customized styles. Visitors may also avail a huge selection of modest tunic covers, tunic dresses and other lengthy covers, all with lengthy sleeves.
Company also provides a wide variety of Islamic clothing for women as well. At mybatua.com, clothing experts serve Islamic clothing to both men and women, who find that their trust motivates them without having to compromise style, beauty and custom. These apparels also include designer handbags that are created to cater to the biggest market requirements. While looking fashionable, buyers can buy these cloths to accomplish the local system. The women clothing range Mybatua provide includes lengthy jeans dresses, pleated dresses, A-line dresses, and flared skirts as well.
MyBatua.com is the proud provider of Islamic woman clothing such as baju kurung or shalwar kameeze. The izaar is another kind of Islamic clothing used by men and this outfit protects the lower area of the body. The online store welcomes the new season with the latest collection.
MyBatua.com is one-stop destination on the web for a complete range of Islamic fashions for men, women and children. The online store offers a complete range of accessories such as handbags, purses, clutches, hijabs, scarves, stoles and much more.