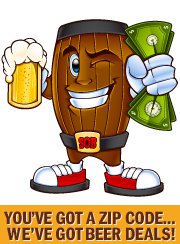 We're beer lovers ourselves, so as much as SaveOnBrew is a business, it's also our passion.
Houston, TX (PRWEB) November 13, 2012
SaveOnBrew.com, the world's only beer price-search engine, has added new features to make it even easier for beer lovers to find great deals in their area. "We're beer lovers ourselves, so as much as SaveOnBrew is a business, it's also our passion. We constantly get feedback from our users and incorporated it wherever possible," said Mark Davidson, founder.
Although many changes have been made, three stand out.
1. A new one-mile radius. "This was in response to customers in dense urban areas like New York City, Chicago, and Los Angeles," said Davidson. "In those dense areas, more than 500 advertised beer deals might show. Adding the smaller radius made it easier to find the deals."
2. The default price-sort is now price-per-beer. Davidson continued, "You can sort by any of the column headers, but we thought a default sort showing the cheapest price per beer really spoke to a core demographic, the college crowd."
3. More than 2,600 beer reviews from BeerReviewsOnline. "People like to try new beers," said Davidson, "but sometimes they want some expert opinions before committing. BeerReviewsOnline is a great partner with tens of thousands of comments from beer-lovers."
SaveOnBrew helps customers quickly locate the best advertised deals on beer near their zip code. All beers are covered--craft, import and domestic. According to James Smith, co-founder, "If finding the lowest price on Bush, Keystone, or Pabst isn't your thing, filter your results to find your favorite IPA, dark ale, or exotic craft beer on sale in your neighborhood."
The free service not only helps consumers but also retailers. SaveOnBrew.com is a great way for retailers to connect to highly motivated beer consumers. The team behind the project has big plans for helping brewers, distributors and retailers get closer to their core audience.
The service currently displays between 250- and 300,000 live deals available from more more than 50,000 retailers across the United States. New retailers are added almost daily.
About SaveOnBrew: Founded in 2010 to help thirsty beer drinkers across the United States find the lowest advertised prices for one of the world's most popular beverages. Enter a zip code, find the beer advertised in your area. Simple. Free.