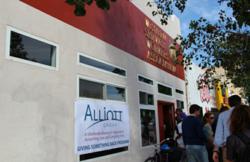 Alliott Group believes that it's important when we hold a meeting we do not just focus on business but look to leave a lasting impression on the community and show that people do care and are willing to give something back - James Hickey
(PRWEB UK) 13 November 2012
The event was organized by Chairman John Jones in conjunction with the Rotary Clubs of East San Diego and La Jolla Golden Triangle, over 90 Alliott Group delegates and companions were able to serve two important non-profit organizations that assist with the poor and under-serviced of San Diego.
At the Jackie Robinson YMCA Alliott Group Members helped with creating 300+ Halloween bags and 800+ hygiene kits.
The Western Service Workers Association delegates helped box food and assist with the weekly giveaway along with interviewing prospective beneficiaries of their services. 48 families will now receive the much need assistance. This volume of intake would ordinarily take the WSA volunteers 4-6 weeks to process this amount.
In addition Alliott Group provided the candy, materials for the hygiene kit, medical equipment and supplies for Western's new medical examination room.
John Jones, Worldwide Chairman Alliott Group commented "This effort follows a similar event with Rotary in Barcelona in October 2011. Rotary's motto is "Service Above Self". I have been in Rotary for over 30 years and am proud to see Alliott Group serving alongside Rotarians"