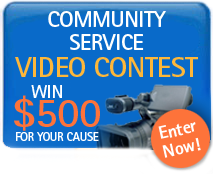 When a community is doing well as a whole, its individuals are better off too.
Catasauqua, PA (PRWEB) November 12, 2012
Homeschooling Video Contest, "Homeschool Students Give Back" sponsored by Bridgeway Academy, Highlights Community Service Oriented Home School Families
Community Service has been a driving force in America since our beginning. Yet in today's world, it is easy to become lost in hectic schedules, looming deadlines, incessant sports activities, tough academics, field trips, and all sorts of other things sweeping people along on a daily ride. Although everyone will likely agree that community service is a valuable and worthwhile pursuit, it is easy to miss this very important aspect of a healthy family with solid core foundations, when they get mired down in the day-to-day task list people are all faced with.
Performing community service provides families with a feeling of belonging to a unit, and pride about such membership. Community service activities are a cornerstone for healthy, happy lifestyles. These critical "service to the community values" need to be passed along to children, providing children and young adults with an identity, purpose, and a strong bond with the community culture that they live in.
Homeschool Values Embrace Community Giving
Most homeschool families embrace the mantra of building
•a strong character
•a moral foundation
•companionship
•loving bonds at home
People know that a moral foundation includes "performing random acts of kindness" and doing good things for others in the neighborhood.
Serving teaches compassion and empathy for the plight of others, while building a child's self-esteem and pride in their efforts. Community service is the best way to instill a positive self worth ethic and a sense of responsibility in children and young adults.
Homeschool Students Give Back 2012 Community Service Video Contest
Now the is time to highlight the best of the best, and help encourage additional student participation and involvement in starting or adding to their community service efforts.
1.The time to show off is now. Compete to win $500 for the charitable cause or service organization that is actively volunteered for!
2.Record a 1-2 minute video promoting the charitable organization. Showcase the volunteer work being done, and briefly highlight the organization's mission.
3.Talk about why community service is important, and how homeschooling allows time to give back to the community.
4.The video will be featured in the Bridgeway Academy Christmas email greeting. Anyone homeschooling is welcome. Contestant must be actively volunteering for a charity organization.
Deadline is Nov. 16, get started today
Copy and paste this link to Enter the Contest:
https://www.facebook.com/HomeschoolingHelp/app_95936962634
Hurry, because voting starts November 16th!
Have fun with it, be creative, and showcase your service to the community so that other students may be inspired. Social media is a wonderful tool to spread the word to others about worthy causes and what they can do to change lives. Visit Bridgeway Academy's Facebook Page for contest entry instructions.