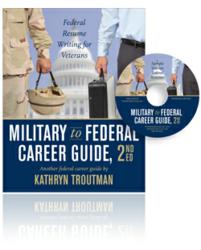 "I submitted the same resume for 400 federal jobs – the shotgun approach – and didn't even get designated 'qualified',"
Baltimore, MD (PRWEB) November 20, 2012
The Veterans Opportunity to Work Act adds a new wrinkle on Nov. 21, 2012: The law will require retiring servicemen and women to attend the previously optional Transition Assistance Program (TAP) career class, which will be extended from 3 days to 5. To further prepare for their career transitions, veterans can also meet with a Fleet and Family Support Center Work and Family Life Consultants, Military & Family Life or Employment Readiness Program counselors, or visit a CareerOneStop center. Still, all of these resources may not be sufficient to ensure that veterans make a successful, timely transition to a federal job or other civilian career.
Even with recent, gradual improvement in the civilian job market, the search is daunting. Some 735,000 veterans were unemployed as of September 2012, according to the Bureau of Labor Statistics. As Iraq and Afghanistan veterans come home, and as other veterans go without jobs, the American economy is missing out on some of its best and brightest leaders and workers. Servicemen and women who have retired since 9/11 are particularly hard-hit; 9.7 percent of them were unemployed in September, nearly 2 percentage points above the national level.
Given these harsh realities, many veterans will need one-on-one help targeting their federal employment search, writing or rewriting their resumes and preparing to succeed in job interviews. Vets need to recognize they're about to undertake a career change, not just a job change.
When John Russo, 55, began his search for a federal job, he expected good results in short order. After all, Russo already had two very successful careers under his belt, with the Baltimore City Police Department and in a decorated 30-year stint in the Army where he rose to Colonel and eventually commanded the Maryland National Guard's 58th Brigade Combat Team. Rounding out his portfolio were a master's degree from the Army War College, top secret clearance and veterans' and 30 percent disability preferences for federal employment.
But at first, all Russo's federal job search yielded was frustration. "I submitted the same resume for 400 federal jobs – the shotgun approach – and didn't even get designated 'qualified'," he says. "I was getting zero feedback. The Iraq war was winding down, the labor market was flooded with people like me, and my resume didn't do a good job of presenting my qualifications to the federal government."
Russo took the TAP course but found it of limited value. "The Transition Assistance Program gives you a book, but you really need a career coach," he says. So Russo turned to The Resume Place, a resume-writing and federal career coaching service that helped him translate technical military qualifications into language that civilian HR and hiring managers could understand, emphasizing his experience as a leader, manager, trainer and analyst.
Russo then found a temporary federal position as a civilian management analyst with the National Guard Bureau, and more recently was selected and hired for a permanent job he loves as a program analyst, GS-12, in the human resources at the Justice Department's Bureau of Alcohol, Tobacco and Firearms.
This summer and Fall Iraq Veteran Jermaine Felix Ventura, 27, successfully transitioned from high-flying Helicopter Crew Chief in the Marines to being a program analyst at Homeland Security -- quite a switch. Ventura spent four years in the armed forces, and began working toward a federal career even before his hitch was up. The Resume Place helped Ventura build a career-changer resume that emphasized critical thinking, analysis, planning, leadership and communications skills.
"Having taken classes with Kathryn Troutman, I began a focused effort to land a government job," says Ventura. He found federal vacancy announcements the month he completed his service abroad, interviewed in June and was hired in July. "Kathryn advised me to thoroughly research each agency I applied to. Interviewers told me I was the only person who did that, so I nailed the interviews and got the job."
Veterans should check out resume-writing and career coaching services with the Better Business Bureau, and make sure that coaches have experience with military-to-federal transitions.