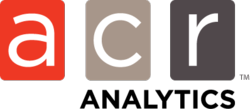 "We are excited to become a preferred delivery partner for GoodData," said Brian Agranoff, founder and CEO for ACR Analytics.
San Francisco, CA (PRWEB) November 12, 2012
GoodData, a leading business analytics company, has selected ACR Analytics, a trusted expert in advanced web analytics, as a new strategic consulting and preferred delivery partner for new and existing customers. This collaboration will provide GoodData's customers with additional insights into their sales and marketing data, empowering them to make better business decisions.
Today, business customers are faced with an overwhelming amount of sales and digital marketing information. Through this partnership, enterprises will now have access to collaborative, robust data and analytics services that will help guide them to more effectively and efficiently analyze this "big data" and turn it into a competitive advantage.
"We recently introduced a new strategy, BizData Monetization, to enable businesses to turn big data into a source of revenue and profit," said Cody Crnkovich, Vice President of Channels and Alliances at GoodData. "We have found a trusted advisor with a proven track record in ACR Analytics. Their expertise in web analytics and digital marketing will ensure our customers receive the best possible reporting allowing them to leverage data to support their key business decisions."
"We are excited to become a preferred delivery partner for GoodData," said Brian Agranoff, founder and CEO for ACR Analytics. "This partnership will enable us to utilize our key strengths and deep web analytics knowledge to give customers a unique level of meaningful insight into their data. We will work hard to uphold the GoodData standard and are honored to be an extension of their delivery team."
###
About GoodData®
GoodData (http://www.gooddata.com) is on a mission to help businesses monetize Big Data.
GoodData is headquartered in San Francisco and is backed by Andreessen Horowitz, General Catalyst Partners, Fidelity Growth Partners, Next World Capital, Tenaya Capital and Windcrest Partners.
About ACR Analytics
ACR Analytics, LLC (http://www.acranalytics.com) is a highly experienced consulting firm specializing in providing digital marketers the insights they need to Acquire, Convert and Retain more customers. ACR Analytics offers advanced web analytics to provide Strategy, Accuracy Audits, Implementation, Optimization, and Scorecard Automation to companies of any size, from web start-ups to global enterprises.