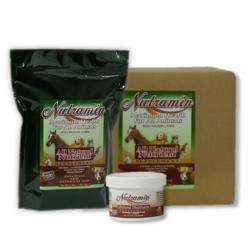 We believe in helping all creatures live life to the fullest, including both humans and animals. By giving animals the chance at full digestive health, NutraMin helps them live longer, healthier lives, and that benefits everyone
Bakersfield, California (PRWEB) November 13, 2012
This week, Spirit Detox (spiritdetox.com), an online retailer specializing in detoxing products, announced the addition of NutraMin to its lineup of health and wellness products. With the inclusion of NutraMin, Spirit Detox extends its product line to the animal kingdom, because NutraMin is specifically formulated to be used with animals, including livestock. The formula uses healing clay to restore digestive health and boost the immunity in the animals that take it.
Spirit Detox was started to provide people with natural products for health, wellness and beauty. The clay in many of the products offered by Spirit Detox contains natural minerals that improve immunity and remove toxins. With the addition of NutraMin to the product lineup, Spirit Detox is bringing that benefit to animals as well as humans.
When asked about extending the product line to animals, Albert Milligan, owner of Spirit Detox, said, "We believe in helping all creatures live life to the fullest, including both humans and animals. By giving animals the chance at full digestive health, NutraMin helps them live longer, healthier lives, and that benefits everyone."
Domestication and commercial livestock feed destroys the natural balance of an animal's digestive system. According to Mr. Milligan, the highly processed nature of commercial feed takes many of the minerals and elements the animal needs for health out of its diet. The result is a compromised digestive tract and immune system.
In the wild, animals who notice an imbalance in their systems will naturally seek out the minerals and other nutrients to help restore that balance. This is simply not possible in captivity. That is what creates a need for products like NutraMin. The powder can be added to the animal's feed to restore health.
The nutrients in NutraMin are designed to return it to its wild state. According to Mr. Milligan, "this boost the immune system, removes toxins, creates stronger bones and joints and even improves fertility." This means that animals that are fed NutraMin can live longer and produce more offspring. This, in turn, benefits those who rely on them in farming operations and as companions, helping the team at Spirit Detox reach their goal of promoting health for all creatures.
About Spirit Detox
Spirit Detox is a company dedicated to bringing quality health and wellness products to people and animals suffering from toxicity and mineral deficiency. The company focuses on products containing mineral-rich clay and organic, natural ingredients to help restore digestive health and immunity. To learn more about their products, visit http://www.spiritdetox.com.