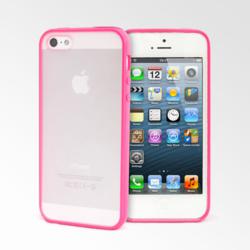 Cute iPhone 5 cases and accessories that are the perfect gift for the holidays.
Santa Ana, California (PRWEB) November 12, 2012
Lollimobile.com the premiere source for feminine mobile accessories with the widest selection of cute phone cases and top rated customer service announces the addition of 8 cute iPhone 5 cases and accessories that are the perfect gift for the holidays.
Frost Series iPhone 5 Cases:
This iPhone 5 bumper case features a semi transparent frosted backing and a protective colorful TPU bumper to give your iPhone great style and protection in a thin lightweight bumper case. The Lollimobile Frost Series of iPhone bumper cases are available in seven cute colors including: Black, Hot Pink, Light Blue, Light Pink, Mint Green, White and Yellow with a retail value of 22.99 USD.
Krystal Series iPhone 5 Cases:
This iPhone 5 case is a clear plastic case covered entirely in crystal clear rhinestones. It's the perfect iPhone 5 case for those that want to bling up their iPhone 5. The Lollimobile Krystal Series iPhone 5 cases is available in clear crystal with a retail value of 19.99 USD.
Crystal Clear HD Screen Guard:
This high-transparent film is made with a weather resistant, dust-proof, high quality PET plastic which offers a high transparency rate of 91.2% to 97% for watching 1080P video with nearly no picture quality and clarity loss. It offer anti-UV protection with a strong anti-friction rating of 2H to 3H and features a ultra high performance environmentally friendly adhesive which automatically binds with no bubbles or peeling away. The Crystal Clear HD Screen Guard comes with a micro fiber sheet and has a retail value of 9.99 USD.
Lollimobile now carries iSkin and Moshi products and is the exclusive resale partner for AViiQ.
Lollimobile.com is now partnering with AViiQ as the exclusive retail partner and is the only place to find exclusive AViiQ iPhone 5 Cases and iPhone 5 Bumpers not available anywhere else. These new cases include the AViiQ Stars Series and the AViiQ Jack Series which feature a cool 3D stars or skull design. Lollimobile.com also carries AViiQ's all new AViiQ Bees iPhone 5 Bumper which is a unique 2 piece TPU iphone bumper with a shock absorbing hexagon structural silicone lining. In addition to AViiQ, Lollimobile now carries iPhone 5 cases from well known brands including iSkin, Incipio, and Moshi including the all new iSkin Solo Series of iPhone 5 Cases and the Moshi iGlaze 5 iPhone 5 Cases. Prices for these products range from $24.99 to 29.99 USD.
About Lollimobile.com
Lollimobile.com, founded in July 2012, Lollimobile.com is the ultimate online resource for cute mobile accessories. The website lollimobile.com already carries over 150 products, from Apple iPhone 4 cases to Samsung Galaxy S3 cases and soon to include the all new iPhone 5 cases. With some of the most competitive prices on the Internet today, Lollimobile.com keeps costs low for consumers while providing an easy, service oriented shopping experience. The idea is to not only bring the largest selection from all around the world but also to offer the best customer service through their "Love it guarantee" which offers not only free shipping but also offers free no questions asked returns. Visit http://www.lollimobile.com to learn more.