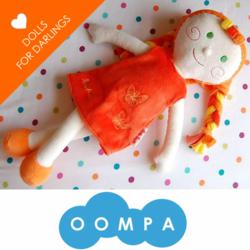 Thank you Oompa Fans for helping us put some smiles on a few cute little faces!
Arlington Heights, IL (PRWEB) November 13, 2012
Oompa is teaming up with Facebook fans and community members to find some deserving but sometimes forgotten "darlings" who could benefit from the comfort of a doll friend this holiday season. This year's donation will feature the adorable Baby Doll Elli, star of the hugely popular Maytag "Tea For Two" commercial.
Oompa is asking all interested parties to nominate favorite not-for-profit organizations on the Oompa Toys Facebook page. Oompa would like to touch as many lives as it can, so four of the nominated organizations will be selected to receive up to 50 dolls each!
Please read the below guidelines. If your organization fits, nominate it by simply stating the organization's name, its website, and why you think it deserves Elli dolls. It's that simple! So nominate today, and share it with your organization, friends and family! At least four organizations that follow the guidelines and receive the most "likes" will receive up to 50 Elli dolls! Winners will be announced in the evening on Thanksgiving Day.
Guidelines:

Nominate an organization by November 19, 2012.
Nominations must be posted to original Oompa Toy Facebook thread to be considered.
Nominator must write 100 words or less detailing why the organization would benefit from this donation and how many dolls are needed.
Organizations nominated must be located within the continental US.
Organizations must be a "not-for-profit 501(c)".
Organizations cannot be politically or religiously affiliated.
Must provide the organization name and website.
Only one nomination per person.
Once an organization is nominated, please do not nominate it again. Simply like what has been posted.
All "likes" must be on original thread.
Nomination Posts on Oompa's Facebook page with the most "likes" win!
Oompa's co-president Sandra Gunthorpe says, "We will give until we don't have anymore to give! Thank you Oompa Fans for helping us put some smiles on a few cute little faces -- because the toys you give a child matter!"
Oompa is an all-women owned small business with offices in Arlington Heights, IL and Carlisle, PA. Specializing in baby toys, natural toys, modern toys, and European toys, Oompa is the leading online specialty toy retailer in the United States. For more information about Oompa, please visit oompa.com, view our attached our media kit, or contact Sandra Gunthorpe.