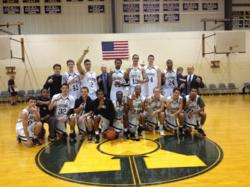 Saltsburg, PA (PRWEB) November 12, 2012
(For Immediate Release Saltsburg, PA) – The Kiski School's Varsity Basketball Team has been ranked among the top 15 Prep Basketball Teams in the country each of the last three years and has sent nine of its players on to Division 1 basketball in that time.
Kiski started the 2012-2013 season by going 4-0 in the National Prep Tip Off Tournament as they captured their second straight Tip Off Tournament Championship. On Friday, Kiski opened up its season with a 93 to 72 victory over Spire Institute Team Two of Ohio. In that game, Kiski's 6'5 sophomore shooting guard Greg Bearer led the team with 20 points, going 6 for 6 from behind the 3-point line.
On Saturday morning, Kiski faced Spire Institute Team One and came away with a 65 to 44 win. Recent Drexel University commit and 6'4 senior point guard Major Canady, led the way with 16 points to go along with his 14 assists and 7'0 junior center Satchel Pierce finished with 15 points and 16 rebounds.
In Saturday's nightcap, Kiski beat Planet Athlete Academy from Arizona 86 to 72. Canady led Kiski with 28 points and 6'6 senior Rashad Richardson, who has committed to Division 1 IPFW, scored 15. Pierce finished with 14 points and 15 rebounds.
In Sunday's Championship game, Kiski faced Princeton Day Academy, who hit a buzzer beating jump shot two years ago to capture the first ever Tip Off Tourney Championship. This game was much different as Kiski's pressure defense led to a 30-point halftime lead. Kiski wound up winning by a score of 79 to 53. Richardson led all scorers with 20 points, while Canady chipped in 13 along with 17 assists. Seniors Dapo Badmos and Houston Dugan each scored 10 points and senior Daniel Camps added 9 points and 11 rebounds.
Kiski's fourth year Head Coach Daryn Freedman said, "A few of the kids on this year's team were there for the game two years ago and still feel the pain of that loss. It is one of only two home games we have lost in the last four years. They came out very motivated and played some of the best defense that I have ever seen in a high school basketball game. They should all be very proud."
Major Canady was named Tournament MVP, while Rashad Richardson and Satchel Pierce were named to the All-Tournament Team. Kiski faces the preseason #1 Prep Team in the country Brewster Academy of New Hampshire on Saturday night at 6:15 pm at Albertus Magnus College in New Haven, Connecticut in the National Prep Showcase Event. More than 200 Division 1 & 2 college coaches are expected to be at that game. Kiski's next home game is Saturday, December 8 at 2:30 pm against Mercersburg Academy.
The Kiski School is an all-boys college preparatory boarding school located approximately 30 miles east of Pittsburgh, Pa. The School has 205 students and accommodates boys 9-12 grades as well as post graduates. For 125 years, Kiski has provided academic excellence, comprehensive athletic and extracurricular activities, and small class sizes, allowing each boy to receive personalized attention. For more information about The Kiski School contact the Office of Admissions at 1-877-547-5448, or visit the School's website at http://www.kiski.org.