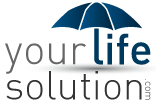 Chicago, IL (PRWEB) November 12, 2012
YourLifeSolution.com, a service which claims to generate the best term life insurance rates after asking the consumer only a few questions, is informing the public that the most advertised and often most well known life insurance carriers are rarely providing life insurance within 20% of the best rate available.
The founder of YourLifeSolution.com, Eric Smith, routinely researches the the best term life insurance rates available from companies such as State Farm, New York Life, and Allstate and has found that these rates are almost always at least 20% more than the best term life insurance rates available throughout the American market. "It's both hard and easy to believe that these companies do not provide competitive term life insurance options. On one hand, they are incredibly prolific and own a significant amount of the market share, which would make many believe they must be competitive. On the other side of the coin, if they are well known, this could be their primary value proposition and therefore they might not care about providing competitive term life insurance rates when they can sell based on name recognition alone", said Eric Smith, the founder of YourLifeSolution.com.
According to YourLifeSolution.com's instant quote engine, the most competitive rates are typically with companies such as Prudential, ING, SBLI, Genworth and Fidelity. YourLifeSolution.com feels these companies are clearly not as well known as many of the companies that are franchised and prolifically seen throughout America, they are however much better options for middle-class Americans trying to budget term life insurance into their expenses.