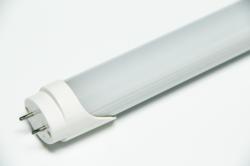 (PRWEB) November 26, 2012
Zhongtian Lighting, a leading LED tube manufacturer in China, recently launched 18W T9 LED tube light [ZT-F0912-09618A] to replace the conventional fluorescent lamps. This LED tube light is ideal for food industry refrigerators, coolers and freezers, deli cases, floral refrigerators and coolers, office lighting, general and street sign backlighting, task lighting, under cabinets/counters, display cases, interior design uses, and retail store displays.
Zhongtian Lighting's LED tubes provide for instant start-up as well and are entirely flicker free. With a long life expectancy of up to 50,000 hours, the light is meant to accompany through customers' entire life. Currently available colors include warm white, cool white and daylight. With a high CRI (color rendering index) of 80 and its slim design, the T9 tube is also ideal for a variety of lighting applications, including back lighting, cove lighting, pop and display lighting and refrigeration/cooler lighting.
Solid-state design renders LEDs impervious to shock, vibration, frequent switching and environmental extremes. Savings from reduced maintenance costs and downtime quickly return the capital investment expenditure, making them as friendly to the environment as they are to the operating budget. The LED T9 tubes comply with RoHS—the lead-free and mercury-free European directive. They emit no infrared or ultraviolet radiation. Unlike conventional fluorescent bulbs, LED lights are not disposed of as hazardous waste at end of life.
With Samsung LED chip, this T9 tube light delivers 1800-2000lm at only 18W power consumption. The sturdy construction of a UV-resistant polycarbonate housing over the LED tube provides increased protection — no glass to break and no mercury environmental hazards to worry about as with fluorescent tubes. The lamps save 80% energy and last up to 25 times longer than traditional fluorescent lamps. Its quality and lumens are improved with the development of technology of Zhongtian Lighting.
Zhongtian Lighting's R&D team has also developed a new way to position LEDs into tube lights. Whereas other LED makers use a single row of LEDs in their tube lights, Zhongtian Lighting is now implementing a design that increases uniformity and quality of light by using two, staggered rows of LEDs. Instead of uneven light with unsightly bright and dark areas, Zhongtian Lighting's T9 LED Tube Lights produce, along their entire length, exactly the same high-quality, natural, soft light that consumers have been waiting for in an LED tube light.
For more information about Zhongtian Lighting and its products, please visit http://www.ztlights.com/LED-Tube-Light.html.