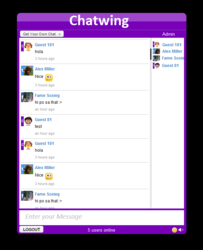 Cambridge, MA (PRWEB) November 13, 2012
Majority of the population are visually inclined. The reason most websites bank on interesting videos and images to draw web surfers' attention into their sites. A photo can say a thousand things and can provoke imagination. In the World Wide Web, it is not enough that web owners put original and quality contents into their sites; they must also manifest creativity and be entertaining. Chatwing team recognizes the importance of integrating creativity in managing sites. Chatwing's enhanced free chat widget offers various ways of customization.
Chatwing chatbox operates in a simple mechanism yet it can't be underestimated when it comes to providing efficient global connectivity. In terms of installation and customization processes, anyone can surely accomplish it without hassle and in just a few seconds.
Compared to other free web chat applications online, Chatwing free chatbox can be altered in more ways. Web surfers can change the widget's size, color and border design that will fit their sites' theme. This is important to maintain the professional image of the website; everything should be in harmony. Online users can also be as creative as they want to be, mix up colors- fonts and usernames and upload photos as the widget's background. Advanced users can also use the CSS customization feature; guidelines are available in Chatwing's website.
Another unique feature of Chatwing chat box is the MP3 link upload option. Web owners can engage more of their visitors' senses. This will certainly result to re-visits since online users are having unique chat experience in a site. These can also result to word-of-mouth promotion of one's site.
Chatwing free chat box is not only about creativity, it is more on connectivity which is the key to improved web visibility. Reaching out to a thousand web users is easy and fast with Chatwing's regular shoutbox and pop-up window forms. Establishing a more personal relationship with one's readers or clients will certainly contribute to a site's or business' success.
About Chatwing.com
Chatwing.com specializes in the new field of website chat. Over years, the Chatwing team has introduced live chat widget for hundreds and thousands of blogs. The Chatwing application bridges people from many parts of the world, creating global synergy through the Internet. The shout box can be installed in just seconds, and it can be used for varying purposes such as leisure and Internet marketing. It also allows a user to customize the size, color, and name of the widget. Chatwing is 100% free for everyone.