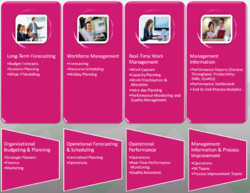 Supported by eg we reduced staff costs by over 35% within 6 months, improved our turnaround in response to customer correspondence to record levels and kept them there
Stafford, Staffordshire (PRWEB UK) 13 November 2012
The market is emerging for solutions which can achieve the best of both worlds; the forecasting and resource scheduling best practices from the front office, together with capabilities to manage the problems and complexities unique to the back office. The combined requirements and tools must also meet the needs of different audiences throughout the business.
Analyst Donna Fluss of DMG Consulting in the US has written a paper, sponsored by eg, on the back office market space and The Emergence of Back-Office Workforce Optimisation Suites.
Back office whitepaper summary
After spending the last 15-plus years trying to fully automate all back-office functions, managers are finally coming to the realization that they won the battle but lost the war. Despite succeeding with often costly and lengthy automation initiatives, the number of back-office workers required to support their business has not been reduced, and in some cases has grown. Since it was believed that automation would eliminate the need for workers, these initiatives did little to nothing to optimize performance and improve productivity.
The cost, complexity and opportunities in the back office have captured the attention of senior executives. Back offices in the public and private sectors are now under increasing pressure to reduce operating costs while improving quality and the customer journey - and the long-lasting worldwide economic slowdown has turned the back-office issue into a top priority.
Back-office workforce optimization (WFO) suites combine and integrate the capabilities from a variety of best-of-breed solutions, operations management concepts and best practices from similar contact center solutions.
"These WFO suites have the potential to vastly improve the effectiveness and performance of back-office operating groups. The return on investment for the small number of early adopters who have embraced the back-office WFO suites and best practices has been 9 to 18 months",
Read this white paper to learn what these new and emerging back-office WFO suites can do for your organization. Request your copy of the full paper by email: ask(at)eguk(dot)co(dot)uk and ensure you have supplied your name and the address you wish the paper to be sent to.
eg are market leaders in back office optimisation with the most complete purpose built back office WFO suite – intelligent operations management.