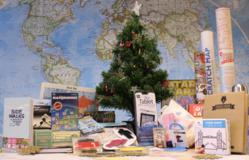 We believe Christmas shopping should be as enjoyable and stress-free as possible, which is why we've launched a dedicated Online Store on Stanfords.co.uk.
London (PRWEB UK) 13 November 2012
Maps and travel guides retailer Stanfords is delighted to release its top 10 Christmas gifts recommendations for the whole family. With the countdown to 25th December well underway, now's the perfect time to shop online for all your presents - and we believe our Christmas gifts range will really inspire festive shoppers.
Stuck for Christmas gift ideas? Discover our top 10 recommendations:
1. Happy - Secrets in Happiness from the Cultures of the World
Christmas may be the happiest time of year, but how to break a smile in January, February and March? Happy from Lonely Planet examines how peoples and cultures make their lives more enjoyable through rituals, events and festivals - ones like Thailand's Lantern Festival or passeggiata, the Italian tradition that involves a gentle stroll through old town streets. By adapting a few of these cultural secrets, readers can look forward to bringing a little more happiness into their life.
2. World Map Place Mat
With the World Map Place Mat, would-be travellers can plan their next adventure over breakfast or dinner. Little Wigwam's colourful, dirt and water-resistant place mat beautifully details the planet's continents in bright colours. All countries and oceans are named, as are most capital cities and rivers - perfect for inspiring the little ones.
National Geographic's Jennifer Holland has put together a beautiful series of 47 unlikely but heart-warming animal friendships - from the cat and the bird to the elephant and the sheep, and the hamster and the snake to the tortoise and the hippo. Aside from endearing full-colour photos, Holland reveals how and why these unlikely friendships came about.
Travellers can create their very own version of the world with the Corkboard World Map. Consisting of 16 adhesive pieces, the map can improve the look of any wall in the house - and because it's made from cork, it's perfect for attaching treasured travel mementos like tickets, postcards and photos. Measuring 100 x 46cm, it's the ideal way for adventurers to re-live their travel memories.
5. Moleskine Star Wars Limited Edition 2013 Weekly Diary & Notebook
With the Star Wars 7 movie confirmed for 2015, now's the time for some Star Wars nostalgia. Moleskine has released this highly-collectible limited edition 2013 weekly diary and notebook. Its cover is adorned with quotes from Yoda, while the diary also features themed flyleaves and colour illustrations. You a merry Christmas we wish!
6. Travelogue
The perfect gift for somebody preparing for an epic adventure, the Travelogue is a beautifully-designed 64-page travel journal - allowing its user to document each and every step of their trip of a lifetime. Featuring eight mini scratch maps, one for every region of the world, the Travelogue is set to become the definitive document of any major overseas expedition.
7. How to Climb Montblanc in a Skirt
Female explorers have been overlooked for too long. Mick Conefrey's insights aim to address this lack of acknowledgement - combining inspiring stories of adventure and light-hearted exploration tips, How to Climb Montblanc in a skirt reveals who donned the appearance of a Tibetan monk to explore Asia and how to climb Everest without oxygen. Oh, and what to do when faced with a hungry crocodile.
8. Bird Bingo
One little duck - number two! Say hello to Bird Bingo, an innovative avian take on the famous probability game. Featuring 64 bird species from around the world, Bird Bingo allows players to learn the names and colourings of their favourite bird species - from the kookaburra to the puffin. Each bird has its own expertly-illustrated bingo chip, while the game also comes with one board, 12 bingo cards and brightly-coloured counters.
Inspired by the author's Inky Fool blog, The Etymologicon is Mark Forsyth's intriguing account of the unusual connections between words. But his quest in discovering the links between church pews and organised crime, or codpieces and brackets, isn't purely etymological; Forsyth also attempts to get to the bottom of myths and the meanings behind sayings. Did Thomas Crapper really invent the toilet? And where does the phrase 'enough room to swing a cat' come from?
10. Britannia Desk Globe - Walnut
This beautiful handcrafted Britannia Desk Globe is one of the most popular in the Stanfords' range. Set on a walnut base with roller bearings to allow fluid movement, the distinctive blue and sepia tones sit alongside its custom 18th century font. With fully up to date cartography, the globe details country and regional borders in addition to rivers and capital cities. Each model is expertly hand-painted, with several thin coats of clear gloss varnish applied to protect the globe from UV rays.
We believe Christmas shopping should be as enjoyable and stress-free as possible, which is why we've launched a dedicated Online Store on the Stanfords website. Whether shoppers are looking for gifts for history buffs, presents for budding adventurers or stocking fillers for their partner, they can be sure of finding that perfect present in just a couple of clicks.
About Stanfords: Stanfords is the UK's leading specialist retailer of maps, travel books and travel accessories, having been established in 1853 by Edward Stanford. Its flagship store in Covent Garden, London, opened its doors in January 1901 and offers the world's largest stock of maps and travel books under one roof. Stanfords also has a Bristol outlet, which opened in 1997.