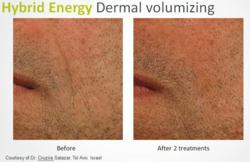 The results of the Hybrid Energy treatments demonstrated significant dermal refilling and reduction of wrinkles. Skin texture improvement was manifested by radiant skin, smaller pores and volume increase.
(PRWEB) November 13, 2012
Pollogen Ltd., a global leader in the medical aesthetic market, announced that it has received CE approval for Surgen- a state-of the art wrinkle treatment and Dermal Volumizing solution based on new Hybrid Energy Technology. Surgen also offers TriFractional technology for advanced skin resurfacing.
The dramatic Dermal Volumizing results achieved with Hybrid Energy are attributed to the unique method of treatment. Hybrid Energy uses a combination of Hot and Electrical Invisible Micro Ablation (IMA) which is administered via a disposable tip comprised of an array of micro needles.
Hot IMA facilitates smooth and painless penetration of the micro needles to target the mid-dermis. Electrical IMA then selectively affects the targeted area using safe non-thermal energy. This creates micro-wounds in the dermis and triggers the body's natural healing response mechanism. As a result, while epidermal visible response is minimized, a significant effect is generated in the Dermis that safely delivers Auto-production of Hyaluronic Acid, Collagen Regeneration and Elastin Growth with virtually no pain and minimal to no down time.
Surgen also integrates TriFractional Technology - an advanced anti-aging radio frequency procedure that enables effective fractional skin resurfacing and is suitable for enhancing the Hybrid Energy treatment effect for skin complexion improvement in case of epidermal imperfections. The Surgen platform has a user friendly touch screen with pre-programmed but adjustable parameters for each treatment type.
Dr. Alex Levenberg, Board Certified Plastic Surgeon and a respected member of the American International Society for Aesthetic Plastic Surgery (ASAPS), has gained clinical experience of the Surgen platform. "The results of the Hybrid Energy treatments demonstrated significant dermal refilling, reduction of wrinkles including nasolabial wrinkles and perioral and periorbital lines and improved appearance of acne scars. Skin texture improvement was manifested by radiant skin, smaller pores and volume increase. No undesired side effects were experienced by the subjects. Treatment was well tolerated; pain was none to minimal with no downtime."
Pollogen's CEO, Mr. Amichai Bar-Nir stated: "Pollogen is always working on new solutions that provide superior anti-aging, wrinkle reduction, wrinkle prevention, and skin resurfacing results while taking a customer centric approach to offer treatments that are safe, effective and just as importantly, convenient. All of the treatments administered by our products can be done in simple 'walk in – walk out' procedures. The innovative Hybrid Energy Technology with Hot and Electrical Invisible Micro Ablation, provides a cutting edge anti-aging solution. We are confident that it will quickly become an industry gold standard."
About Pollogen:
Pollogen Ltd. is a global leader in the medical aesthetics market providing innovative, safe and effective solutions that enhance and expand the practice of medical aesthetic professionals. The company offers products to address a range of skin treatments under the industry's four premier brands: Hybrid Energy™ TriPollar®, TriLipo® and TriFractional™.
Pollogen offers a full line of clinically-proven, non-invasive anti-aging facial and body contouring treatment platforms for circumference reduction, cellulite reduction and skin tightening. The company's medical aesthetic devices Surgen™, Maximus™, Apollo™ and Regen™ XL offer customers clinically-proven, safe and effective anti-aging lunchtime beauty treatments that deliver immediate and long-lasting results. With a distribution network in over 60 countries, Pollogen is providing innovative solutions to medical professionals globally.
For more information, visit http://www.pollogen.com.
Pollogen—Expect More: More Innovation, More Results, More Service.