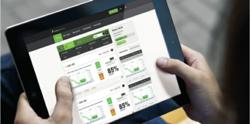 "From our experience, the difference between profitable and unprofitable venture can be very slim. Our back-end software allows for smart decision-making while our new front end keeps the highest conversion rate
London, UK (PRWEB UK) 13 November 2012
Tradesmarter Holdings, is a leading turn-key solutions provider of binary options trading white labels and services. This Forex Magnates Summit 2012 in London will be the official launch of its new Tradesmarter 2.0 Platform. At the event attendees can swing by booth S10 and get a sneak pre-view of the new platform and its exciting features, as well as learn how the new platform solves the easiness of front end and back end integration. Tradesmarter commits to fast deployment and reduced set-up fees can be negotiated at the forex magnate's event as part of the launch promotion.
The new platform offers exciting new features such as 60-second binaries, advanced charting and a 'Risk-O-Meter' to adjust payouts or rebates on any trade. Looking forward, the company will continue to add features on its reliable & secure platform, whilst keeping it simple and fun to maximize conversion. "We are delighted to take the lead from the most reliable platform known in the market for its top notch customer service, and promise to offer a superior trading experience to our customers", says a spokesman for 24bulls.com an upcoming new brand to be led by a known major financial media group that took the advantage of Tradsmarter new platform.
The all-in-one turnkey B2B Binary Options white label solution, along with Fast deployment and API Integration was launched following an evolutionary process and strategic decision by the company to meet a pipeline of demand for branded binary options solutions. "From our experience as pioneers in the binary options industry, the difference between profitable and unprofitable venture can be very slim. Our back-end software allows for smart decision-making while our new front end keeps the highest conversion rate in the industry, which translates into a successful operation," says CEO Jonathan (Yoni) Avital.
Want to meet us? We'll be at the Forex Magnates 2012 conference in London, Booth # S10. Send an email to whitelabels (at) tradesmarter (dot) com with your availability, and we'll see you then.
About Tradesmarter
Tradesmarter Holdings was established in 2008 by a group of dedicated professionals converging from the financial and online worlds to build the next generation platform in simplified trading. The company serves as a reliable technology partner for over a dozen partner brands offering binary options worldwide and has pioneered the trend towards industry. TradeSmarter is a leading Binary Options Platform that offers b2b full Turnkey solutions and bespoke tailored platform branding to fit any White Label need. TradeSmarter is a specialist in working with financial partners all over the world, including Europe, Australia, the Middle East and Asia regions.