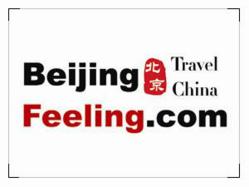 (PRWEB) November 12, 2012
On Nov. 6, 2012, BeijingFeeling.com, a leading Beijing travel service company, announces its Beijing tour package promotion from Nov. 11 to Nov. 30, 2012. All the old and new customers for its Beijing tour packages can get a discount, up to 10% off.
The Beijing tour packages include Old and New Beijing tour packages. In the Old Beijing tour package, travelers will visit the old Hutongs in Beijing and the ancient Great Wall, because they can reflect the historical aspects of Beijing typically. While in the New Beijing tour package, the tour spots include Bird Nest (one of the "World's Top 10 Constructions"), 798 Art Factory, Houhai Bar Street, Nanluoguxiang street, and Yandai Byway, each of which is a mirror of modern Beijing.
Alan Zhang, CEO of BeijingFeeling.com, said, "As the capital of China, the sightseeing in Beijing is incomparable. It is really worth visiting even in winter time, especially for those who are not flexible for vacation but only have vacations for winter time. So it's still not late to wash away your tensions if pay a visit to Beijing in these two months."
"It is my first time to visit Beijing. After the Great Wall tour, the visits to Houhai Bar Street, Nanluoguxiang street, and Yandai Byway can really give me a strong feeling of aged and new Beijing's cultural exchange. Thank you! " Said, Tracy Hagstrom, a visitor from London.
Alan Zhang emphasized, "We try to be original, unique and different from our competitors in how to satisfy and impress our valuable clients. Additionally, we provide visitors with a fast, sincerity, flexibility and reliable response to their requirements in China."
About BeijingFeeling.com
Founded in 2008, BeijingFeeling.com is one of the leading Beijing tour companies, and offering over 200 pre-designed China tour packages covering major destinations in China as well as China's tailor made tours per customer's request. BeijingFeeling.com is ready to assist each customer to plan a memorable China tour.
Please visit http://www.beijingfeeling.com/ for more details.