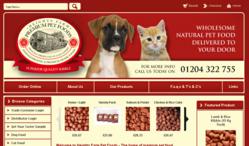 It is also worth considering that like humans sometimes have specific dietary needs or medical conditions, pets can have the same
Bolton, Lancashire (PRWEB) November 12, 2012
Research published by the People's Dispensary for Sick Animals has claimed that obesity, illness and aggression will cause major issues amongst the country's pet population in the future if they are not remedied quickly.
The charity revealed that 1.3 million dogs displayed 'problem behaviour' with 30% of owners being attacked or bitten by their pet. 51% of owners also reported that they knew someone who had been bitten or attacked by a dog. A separate survey of children reported that 65% had been scared or frightened by a dog displaying problem behaviour.
'This PDSA research provides some worrying statistics about pet owners,' Stephen Ward is the owner of Bolton-based Heights Farm Premium Pet Foods which supplies wheat free dog food to pets around the country. 'Although there are plenty of owners who take full responsibility and care of their pet, there is an alarming amount that need to reassess their own suitability for animal ownership.'
The PDSA report declared that the primary cause of anti-social behaviour was due to the dogs not receiving an adequate level of obedience training and socialisation skills at a young age. Dog owners who fail to obedience-train and socialise their pets at a young age are causing 'frightening' levels of problem behaviour. The PDSA also recommends that schools should teach children how to be good owners after the research highlighted 'fundamental' gaps in their knowledge about animal welfare.
The research also revealed that 33% of pet owners aged 18-24 would consider re-homing their pet if the financial aspect became too much of a burden and 20% said the cost of owning an animal was far greater than what they'd first anticipated.
'Potential owners need to realise that a pet is not a fashion accessory or a status symbol and it is an expensive, time consuming responsibility to take on,' says wheat free dog food supplier, Stephen Ward. 'Owning a pet consists of a lot more than buying an animal and a few tins of food.'
75% of pet owners polled estimate that owning an average dog would cost them less than £5,000, and 25% thought it would cost even less, quoting just £1,000.
'That figure is particularly worrying, as it suggests that the owners are unaware of the actual cost of having a dog and would be completely unequipped to deal with unexpected costs,' says Heights Farm Premium Pet Foods owner, Stephen Ward who supplies wheat free dog food and hypoallergenic dog food.
'Serious illnesses and injuries, vaccinations and neutering are all essential, and equally costly necessities that any serious pet owner should be prepared to cater for.'
The PDSA estimates that the average dog costs can range between £16,000 and £31,000 over a lifetime, whilst a single cat is around £17,000. These quotations include grooming, toys and food, as well as micro-chipping, boosters, insurance, initial vaccinations and neutering.
'It is also worth considering that like humans sometimes have specific dietary needs or medical conditions, pets can have the same,' says hypoallergenic dog food supplier, Stephen Ward. 'This is not always apparent to new owners, but it is essential that they pay attention to their pet's health and behaviour to discover any medical issues which may need attention. Some dogs may require a lifetime on specific medications or have dietary needs that require hypoallergenic dog food. Expenses like these need to be considered and budgeted for before even considering adopting a pet.'
The PDSA research also revealed that 18.5 million cats, dogs and rabbits are given unhealthy diets and treats despite owners being well aware of the consequences to their health, according to the research.
'This is an alarming statistic,' says Stephen Ward. 'The effects of an unhealthy diet are many and can lead to medical conditions, obesity, and costly vets bills as a pet's overall health decreases as a result of an unhealthy diet.'
The PDSA research noted that 11.2 million UK pets are not vaccinated or neutered, increasing the risk of them contracting serious illnesses.
'It seems strange that for a nation of animal lovers that so many people are neglecting their pet's basic health,' says the owner of Heights Farm Premium Pet Foods Stephen Ward, who supplies hypoallergenic dog foods across the country. 'Pets who are not vaccinated can contract serious illnesses which can lead to unnecessary suffering and extensive vet's bills, whilst un-neutered pets can display anti-social behaviour.'
The PDSA research revealed that 61% of UK dogs had not attended obedience classes or some form of training within their first six months, which can lead to anti-social behaviour and in worse cases, re-homing.
'Each year there are awful stories of dogs attacking pets and people, sometimes with fatal consequences,' says Sean Wensley. 'Tackling this begins with owners and breeders taking full responsibility for their dog's behaviour and adequately socialising them and training them from a young age.'
'There is a lot of factors to take into account before you adopt a pet,' says wheat free dog foods supplier, Stephen Ward. 'Obviously, there are costs involved where food and vet's bills are concerned. If you need specific pet food for dogs with allergies for example, or a certain kind of regular medication to ensure your pet has normal quality of life, these can be more expensive and should be considered.'
'Aside from the financial costs, it is your responsibility to ensure that your pet has the best possible start in life by being neutered, vaccinated and trained at an early age.' Stephen Ward owns Heights Farm Premium Pet Foods that supplies natural meal options, such as salmon and potato dog food.
'If pet owners cannot fulfil these basic expectations, they are contributing to the issues that the PDSA has revealed. It's essential that potential pet owners both consider the costs of adopting a pet and the responsibilities involved in their welfare and training to ensure that they do not become a problem in the future.'
This press release is part of an SEO campaign by Bolton web design and SEO specialists Vizcom