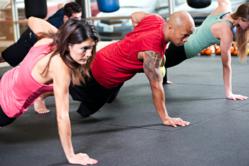 Our regular clients are using the 10 Minute Workouts to get a great workout in, when time is limited.
Naples, FL (PRWEB) November 13, 2012
When it comes to exercise, many people make the mistake of thinking in a "all or nothing" mindset--"...can't get at least 20 minutes of cardio and regular strength training, then why bother at all?" This is a sure way not to reach any fitness goals. XT Fitness pushes the limits of how to get the most out of a workout in a limited amount of time.
XT Fitness has released a set of online workouts that are challenging and deliver real results in only 10 minutes a day.
Jim Steffen, XT Fitness trainer, stated, "The initial goal of our 10 minute workout, was to help beginners tune up for our longer online routines (XT50). We are finding that so many of our regular clients are using them as a quick workout when they are short on time, that we are encouraging everyone to give them a try. Its a great workout when there are not enough minutes in your day."
Steffen goes on to say, "No matter how busy you are, you can find time to exercise. Don't be afraid of exercise guidelines and whether you can meet them. Remember that it's always better to do something than nothing. 10 Minute Workouts from XT Fitness are perfect for those times, when time is your biggest obstacle."
People are able to access XT Fitness workout routines – with any internet connection. Workout routines are delivered on demand via computer, iPad®, iPhone®, Android®, TV, making it easy to get access at home, at the gym, or on the road.
XT50 is an advanced online fitness program designed for any age or fitness level and provides a gym quality workout with real results. Many fitness plans lead to "plateaus" where the body becomes accustomed to the routines, and sadly, diminishing results. Instead, XT50 provides a variety of fat-burning, muscle-perfecting exercises that continually challenge your body giving maximum results with every workout. New cross training workout routines are posted every week and members have unlimited access to the entire library of online workout videos thru any internet connection.
The XT50 program is based on simplicity and ease of use for the end user. There are no journals, form or planners to fill out. Members simply workout 3-4 times a week by picking any workout from the library, and follow along at their own pace and intensity.
The XT50 workout plan was developed by Jim Steffen of XT Fitness. Jim has appeared on Jay Leno, Live! with Regis and Kelly, ESPN's Sports Nation and numerous other outlets as America's Fun Fitness Coach and he regularly speaks to businesses, schools and organizations around the country about the importance of a good physical fitness workout plan and how it improves everything in life.
Additional details and contact information is available at http://crosstrainingandfitness.com