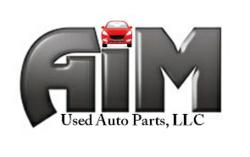 After months of searching for a supplier that meets our stringent auto parts criteria, we found V&M Trading Group and reached out to them
Riverview, FL (PRWEB) November 13, 2012
AIM Used Auto Parts is continuously looking for new opportunities to enhance their business and keep up with consumer demand. In the past few months, AIM has reached out to a top business in the Tampa Bay area, V&M Trading Group. V&M will support AIM to enhance their inventory for both online sales and export, by providing another used parts inventory source in addition to the auto auctions they frequent each week.
"As I started growing our inventory to fulfill online orders through our website and E-Bay, I realized it was virtually impossible to keep a large enough inventory in stock for our export customers," states Alexandria Ayres. "It just made sense to build these relationships."
"We are very selective in where we choose to attain used auto parts. We strive to find the highest quality parts and engines for our clients because our reputation rests on each one sold, not to mention we offer a full 90 day warranty. So each part must be scrutinized and tested before offering them for sale to our clients. After many months of searching for a supplier that meets our stringent criteria, we found V&M Trading Group and reached out to them."
Ayres mentioned that as AIM Used Auto Parts continues to grow and evolve, they will seek partnerships with other salvage yards around the world, eventually becoming a leading used auto parts supplier in the U.S. and abroad.
Having a partnership relationship, AIM will ensure that both parties work closely together to make certain that everything they do will benefit both companies, as well as their customers. Aim Used Auto Parts is pleased to welcome this new and fresh resource to their family.