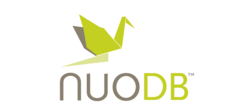 NuoDB is proof that innovation is continuing apace in the database market.

Robin Bloor, PhD, Chief Analyst & Co-Founder, The Bloor Group
Cambridge, MA (PRWEB) November 14, 2012
NuoDB, Inc., a startup offering the industry's only elastically-scalable Emergent Database for the cloud, today announced that their Release Candidate 1 (RC1) is now available for immediate download by the general public. RC1 represents the end of the company's one-year, private beta trial.
Simultaneously, the company announced pricing and licensing for their commercial software, which will be made generally available (GA) in 30 to 60 days, as well as announcing the kick off of a new partner program, NuoConnect.
New Product Editions Based on Freemium Model
Based on a patented emergent architecture, NuoDB is SQL-compliant, guarantees ACID transactions and scales elastically on heterogeneous and decentralized cloud-based resources or on premises. It offers high performance with highly efficient resource utilization. NuoDB uses an asynchronous, peer-to-peer model that makes previously impossible database tasks possible and simple. Effective GA date, NuoDB will be offering two editions of their solution:
The NuoDB Community Edition -- is a free-forever version of NuoDB intended for use in smaller-scale applications. It is a full-featured, high-performance SQL database, which offers powerful in-memory caching, multi-tenancy and poses no restrictions on database size. The NuoDB Community Edition has been benchmarked at between 2 and 20 times the performance of popular Open Source SQL databases on similar hardware.
The NuoDB Pro Edition -- is designed to scale elastically to support applications with very high requirements for transactions per second and currency as well as in databases in which uptime is business-critical.
The Pro Edition features all the power the NuoDB's architecture can offer. As with the Community Edition, it will run in public clouds including Amazon EC2, private clouds, on-premise data centers or even on a laptop.
The Pro Edition will be offered in 4-process node packs priced at $10,000/pack annually including technical support and upgrades. In addition to all Community Edition capabilities, it provides elastic scale out/in, built-in redundancy, and hot upgrade capabilities and also offers optional support for HDFS, the Hadoop Distributed File System, and Amazon S3.
The Community Edition will be offered as a 2-process node version and will be free forever.
Availability
Release candidates for the NuoDB Pro and Community Editions are available immediately. In addition, the Pro Edition, including 8-process nodes, will be available as a free 30-day evaluation at the time of GA.
Release Candidate Offers New Features/Benefits
This latest Release Candidate includes new features not found in previous beta versions of the NuoDB software. Improvements in RC1 include:

Support for node.JS gives developers access to a fast, data-intensive and elastically scalable database;
A rolling upgrades model for upgrading hardware, operating systems or the NuoDB software without taking a NuoDB database offline;
Tunable Commit Protocol – to specify when/where transactions are durable;
An enhanced NuoConsole, the web-based, intuitive management tool that reduces database administration to near zero.
NuoConnect Program Kicks Off with RC1
As part of the launch of Release Candidate 1, NuoDB also announced, in a separate release, the NuoConnect program for partner companies. The NuoConnect announcement also included the signing of several charter partners. For more information see: NuoDB Expands Market Penetration With NuoConnect Partner Program on PRweb.
Analyst Reaction to RC1
"NuoDB is proof that innovation is continuing apace in the database market. Driven by seasoned database experts with an impressive track record, the company is now releasing a high-performance SQL-based large-scale-out transactional database that runs happily on commodity hardware. It will likely attract a good deal of attention," stated Robin Bloor, Ph.D, Chief Analyst & Co-Founder, The Bloor Group, and Founder, Bloor Research.
Supporting Quotes
"More than 2,000 beta customers provided feedback during NuoDB's one-year beta trial. They indicated that traditional SQL solutions don't scale; are too costly and do not adequately meet the requirements for a 21st century database. One-third tested NuoDB as an alternative to their existing SQL databases," stated Adam Abrevaya, NuoDB Vice President of Engineering.
"NuoDB offers the scalability my application requires and does so in a more affordable, more easily implemented manner than any other competitive solutions I have investigated," commented Idan Schechter, an Israeli developer and NuoDB beta customer.
"Customers should be able to test business-critical software with zero risk before committing those solutions to production," stated Barry Morris, Co-founder and CEO of NuoDB. "Our pricing and licensing model, like the NuoDB product itself, is based on the explicit needs of developers and architects building new applications or migrating existing ones. Its usage-based approach scales easily as their applications grow and evolve."
About NuoDB
NuoDB, Inc., is a Cambridge, MA-based startup that provides the industry's first and only patented elastically scalable, emergent database. Unlike every other database, NuoDB is architected to scale effortlessly on the cloud without compromising any of the features or guarantees of relational databases.
NuoDB is the brainchild of industry-renowned database architect and innovator Jim Starkey. NuoDB was launched in 2010 by Starkey and software CEO Barry Morris.
For more information, visit us at our NEW WEBSITE:
http://www.nuodb.com
To download:
http://go.nuodb.com/download-nuodb.html
For pricing and licensing information:
http://www.nuodb.com/explore/sql-cloud-database-how-to-buy/