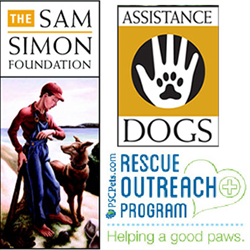 We are committed to saving the lives of dogs to enrich the lives of people
Menomonie, WI (PRWEB) November 12, 2012
PSCPets.com, a leading online supplier of health and wellness products for pets, has teamed up with The Sam Simon Foundation to help support the dogs they rescue. Throughout the month of November 2012, PSCPets.com will be partnering with their customers to donate bottles of PSCPets Intellifora to help the dogs maintain a healthy digestive system during times of stress.
The Sam Simon Foundation was founded in 2003 to rescues dogs awaiting euthanasia. After these dogs are rescued from various shelters they are trained to become service dogs to assist war veterans with PTSD, and hearing dogs for the hearing impaired. Dogs are selected by trainers to enter the new cage-free living environment on 6 acres in Malibu, California in which they receive general house manners and socialization skills for various public places. All service dogs are placed in homes of California residents free of charge.
During the month of November, for every $2 that a customer donates to the Rescue Outreach Program,PSCPets.com will donate a bottle of PSCPets Intellifora which retails at $14.99. PSCPets Intellifora is a nutritional supplement that contains four live, active strains of beneficial bacteria to help to manage pet digestive health.
Complete details about this Rescue Outreach Program can be found online. For those who wish to participate and help PSCPets.com support the Sam Simon Foundation can go to PSCPets Rescue Outreach Program or call the PSCPets.com Customer Service Team at 1.888.873.9719.

About
Launched in 2009, ProbioticSmart.com is a revolutionary site for people who are focused on their own health and their family's health, as well as the health of their four-legged companions. Established to form a connection with their customers, ProbioticSmart.com offers high-quality products to help keep the whole family healthy. When consumers shop at PSCLife.com and PSCPets.com, they know they will receive trusted products at an affordable price. ProbioticSmart.com is a BBB Accredited Business, PayPal verified and SSL Secured via GlobalSign so customers know when they check-out, their information will be secure.