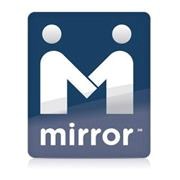 "In the age of Facebook and LinkedIn, the online dating industry is still comprised of closed networks with anonymous profiles. Structurally, the industry hasn't changed in over a decade." says Daniel Mattio, Founder and CEO of Mirror
New York, NY (PRWEB) November 12, 2012
Online dating has changed with the launch of Mirror, a New York-based social discovery platform. For the first time, singles can not only search for others based on the qualities and interests that are important to them, but also connect with each other in a verified, easy and fun manner via SMS or email. Imagine being able to search for and connect with all of the attractive, intelligent and loyal men in your area, not as told by them in an anonymous profile, but by the people in their life who know them best.
"In the age of Facebook and LinkedIn, the online dating industry is still comprised of closed networks with anonymous profiles. Structurally, the industry hasn't changed in over a decade," says Daniel Mattio, Founder and CEO of Mirror. "There is no dignity in anonymity, just lots of creepiness."
Mirror is changing online dating in the following ways:

Real people, real names, verified. When a user visits Mirror, they create a frame. A frame is a short, fun and verified profile; a snapshot of who that person is and why he or she is using Mirror. All Mirror users are verified by email and SMS. The Mirror verification process eliminates the spam, fake and downright disturbing profiles that plague most online dating sites.
Your best qualities promoted by those who know you best. Mirror users can invite their friends to endorse their best qualities and those little things which make them unique. Are you loyal, intelligent, witty, generous or all of the above? Get your friends to endorse those qualities on your Mirror frame. The endorsement process also adds an extra layer of verification to the Mirror experience.
Search for others based on meaningful qualities and attributes, not just height, age and ethnicity. Mirror allows users to search for others who possess the qualities they are attracted to: humor, compassion, independence, intelligence and many more. Mirror users can also search for others who possess shared interests in sports, culture or leisure. These features make the possibility of establishing a real connection offline much more likely.
About Mirror
Founded in August 2011, Mirror is the leading social discovery platform that allows people to connect with others based on the qualities they value, for dating, social or professional purposes. Mirror's mission is to make connecting with those you don't already know easier and more meaningful. Mirror Media, Inc. is a privately-held company and is headquartered in New York City.