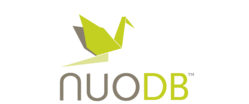 We decided to launch NuoConnect prior to general availability due to partner demand.

Barry Morris, CEO and Co-Founder, NuoDB, Inc.
Cambridge, MA (PRWEB) November 14, 2012
NuoDB, Inc., a startup offering the industry's only patented, elastically-scalable Emergent Database for the cloud, today announced NuoConnect, a developer partner program for technology partners, IT service and consulting firms, Independent Software Vendors (ISVs), and cloud providers.
The NuoConnect program offers the following benefits for participants:

Free NuoDB ProEdition software for development, testing, training and demo purposes
Early access to NuoDB pre-release software
Inclusion in NuoDB product roadmap consultation process
Joint go-to-market programs
Access to NuoDB technical documentation
Access to NuoDB marketing materials
NuoDB technical training
NuoDB sales training
Increased market presence and revenue potential
Listing on the NuoDB website
Certification, validation, and/or joint solution development.
Simultaneously, the company announced their Release Candidate 1 (RC1), which is now available for immediate download by the general public. With RC1, NuoDB also released information on the pricing and licensing model for their commercial software that will be made generally available in the next 30-60 days. That release is entitled: NuoDB Gathers Momentum with Release Candidate of Industry's Only Emergent Database.
NuoConnect Launches With Cutting Edge Partners
The NuoConnect program launches with cutting edge application development partners on board. These include:
Technology partner:

IT Service and consulting firms:

H2 Consulting, USA
Barula Systems, Argentina
Firebase, Columbia
Supporting Quotes
"We are excited to be partnering with NuoDB and fully expect that the combination of their technology being accessed with ours will create a compelling offering for enterprise developers and software architects," stated Scott Ling, CEO at Awesome API
"Firebase.co is delighted to join NuoConnect. We have been testing NuoDB with exciting results and are looking forward to putting it into production with a new web-scale application we are currently developing," stated Johan Hernandez, CEO, Firebase.co.
"We decided to launch NuoConnect prior to general availability due to partner demand. Response to the program has been overwhelmingly positive and we especially appreciate this group of early partners who have already chosen to start providing a true 21st century database to their customers, " stated Barry Morris, Co-Founder and CEO of NuoDB. "We will ramp NuoConnect rapidly over the coming months. These early partners are joining us in changing the rules for relational databases to address a whole new set of applications."
About NuoDB
NuoDB, Inc., is a Cambridge, MA-based startup that provides the industry's first and only patented elastically scalable, emergent database. Unlike every other database, NuoDB is architected to scale effortlessly on the cloud without compromising any of the features or guarantees of relational databases.
NuoDB is the brainchild of industry-renowned database architect and innovator Jim Starkey. NuoDB was launched in 2010 by Starkey and software CEO Barry Morris. For more information, visit us at http://www.nuodb.com.Twitter: @nuodb