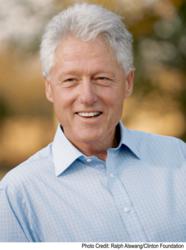 Sacramento, California (PRWEB) November 14, 2012
The Sacramento Speakers Series is a community lecture series that showcases six evenings of topical insight from today's news makers in politics, journalism, education, science and more. The Sacramento Speakers Series host this season's second event on Tuesday, December 4th as they welcome President Bill Clinton to one of the most historic and recognizable buildings in Sacramento, the Memorial Auditorium.
President Clinton was the first Democratic president in six decades to be elected twice-first in 1992 and then again in 1996. Under his leadership, the country enjoyed the strongest economy in a generation and the longest economic expansion in U.S. History, including the creation of more than 22 million jobs.
After leaving the White House, President Clinton established the William J. Foundation with the mission to strengthen the capacity of people in the United States and throughout the world to meet the challenges of global interdependence. The foundation has staff and volunteers around the world working to improve lives through several initiatives. Clinton is the author of three best-selling books; My Life, Back to Work: Why We Need Smart Government for a Strong Economy and GIVING: How Each of Us Can Change the World.
The Sacramento Speakers Series received acclaim following their first event with CNN's chief medical correspondent, Dr. Sanjay Gupta. Series patrons called it "a truly inspiring talk" and stated that Dr. Gupta was "fabulous…a very polished speaker" and "a wonderful first speaker to kick off the 2012 season."
The event will be held at the Memorial Auditorium in Downtown Sacramento at 8:00 pm on Tuesday, December 4th. Doors open at 7:00 pm.
For more information about the Sacramento Speakers Series and the 2012-2013 Season visit them online at sacramentospeakers.com