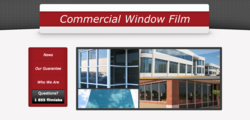 I think we are offering the best auto and home window film services available in the valley
Phoenix, Arizona (PRWEB) November 12, 2012
FilmLabs.co offers prime film services to provide privacy, be decorative, and protect your prized possessions. From cars to homes and offices, they provide top of the line services. With the launch of their innovative and user friendly website it has made it easier to decide what service is best for the user.
CEO Sean Hennessy said, "We are excited to be able to bring these services to the Phoenix and Scottsdale, Arizona area. What we are offering are two important film products, the first is a home or office window film that can be decorative, for privacy and or heat reduction. The second product is a paint protective film for cars, trucks, and motorcycles to eliminate rock chips and wear and tear. We think we have the best product and the best installation services."
Here you would be surprised to know that the range of products which they offer doesn't just end here. You can get a clearer picture once you visit their sleek, stylish and user friendly website.
The website includes drop down menus for Paint Protection Films (PPF) and Window Films so that the customers can gather information about the type of protective film they require and make informed choices based on the knowledge gathered from the website.
The two primary products that FilmLabs is offering are automotive paint protection film and home and commercial window film. Automotive paint protection film has burst on to the market of over the last decade offering a solution to the normal wear and tear that a vehicle endures on specific areas of the vehicle such as the nose or behind the tires. The home and office paint protection film has been available for quite some time but never with so many different kind of applications as today. This kind of film can be used as decorative, heat reduction, privacy and safety from breakage.
"We have chosen these services and line of products because of the demand. These are very useful and innovative products that are gaining in popularity amongst all different age groups and demographics. Home window tinting in Phoenix is a must because of the heat" said Sean Hennessy the CEO.
3M certified, FilmsLab.co, has gone a step further by providing their customers a medium through which they can be more informed, better equipped to make the right decision. The site provides the trusted Filmlabs.co guarantee that ensures the quality of their services. The customers can also browse the F.A.Q.s section to go through the frequently asked questions to help solve any common queries they might have.
FilmLabs.co is a sales and installation service for automotive, home and commercial protective films in the Phoenix and Scottsdale Arizona area. They are certified 3M professional installers for the clear bra in Scottsdale Arizona, and use both 3M and Johnson window films products.