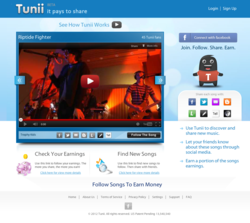 Our mission is to tell the world about great songs like Father by The Dreaming Society.
Los Angeles, CA (PRWEB) November 14, 2012
When The Dreaming Society band was formed, vocalist Shelah Kelso and guitarist Karl Strauss meshed well together and found an instant chemistry. This spark also ignited a romantic bond between them, so you have a true marriage between emotion and precise craft, both musically and spiritually.
"We knew they had something special," said Keith Harrison, President of Tunii Corp. "You could hear it in the harmonies."
The Dreaming Society recently landed a spot in Tunii.com's beta, which is restricted to hand-picked artists. Their song "Father" passed the critical 3 second test.
"That song is perfection" Harrison said. "The guitar work, the melody, the harmonies, and Shelah's stunning vocals make it soar above the crowd. And they did a very stylish Youtube video for it too."
The team at Tunii liked it so much they asked for a special version to be released through Tunii. The video for Father (Tunii Remix) is currently in the top 5 on Tunii.
"Father is a very universal song," Harrison said. "People can relate to it, and that's what we look for. Our mission is to tell the world about great songs like this."
Father (Tunii Remix) is being promoted heavily on Tunii.com, gaining Facebook fans and sales It is available for sale now on iTunes and Amazon.
About Tunii.com:
The digital revolution continues to impact traditional media. Now, with Tunii.com, the cost of promoting new music is crowd-sourced, eliminating the need for large companies to provide capital to push artists and bands. With Tunii.com, the fans provide the marketing mojo that an artist needs to be successful, with more efficiency and with no debt incurred by the artist. There are no long term contracts that restrict an artist's options, so the upside to musicians is clear. They get all the benefits of Tunii without giving away their publishing rights, leaving them fully in control of their work's true potential.
Some of the artists to be early adopters of Tunii include Brett Burke, Trophy Kids, The Dreaming Society, Luna 13, After, Flava Hype, and Sovern.