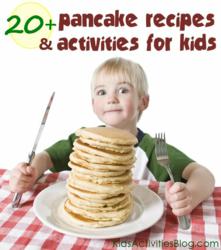 Create memorable family time by making yummy French Toast pancakes and turning the pancake into eatable books!
Dallas, Texas (PRWEB) November 24, 2012
Pancakes are part of family tradition. Get inspired by Pig and Pancake this Fall to create yummy pancakes together with the kids that the whole family will enjoy.
Kids Activities Blog researched the internet to come up with a list of the 20 best pancake recipes and pancake activities for the whole family.
Among the most yummy pancake recipes are French Toast pancakes, yogurt-based blueberry pancakes, Gingerbread, German, and French Crepes pancakes and many more.
Flapjackes aren't just for breakfast. Turn them into a dinner treat when dad is working late. One can also turn them into sandwiches with peanut butter and banana slices.
The most fun filled pancake activities include reading the book If You Give A Pig A Pancake written by Laura Numeroff while eating breakfast, pouring the batter into cookie cutters, making colorful pancake books, or simply by using the flapjacks as coloring pages. Use food coloring or colorful fruit syrup to turn the pancake into a piece of art.
Other ideas include tips on letting kids create their own yummy pancake recipe and teaching them about ingredients and where they come from. Kids Activities Blog loves to feature kids activities that are both easy to do as well as educational for the children. Come get inspired for the next family pancake party.
About Kids Activities Blog
Kids Activities Blog is a website created by two moms (who collectively have 9 children), Rachel Miller and Holly Homer from June Cleaver Nirvana. It is their daily goal to inspire parents and teachers to play with kids. This interactive website publishes simple things to do with kids twice a day. Kids Activities Blog is a great tool for moms and teachers to find kid-friendly activities that create memories and sneak learning into the fun.