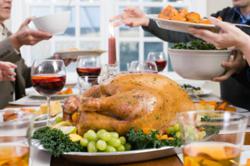 When children are not behaving perfectly, a family member may decide it is due to permissive parenting and that the child needs strict discipline to teach him who's boss.
Peterborough, NH (PRWEB) November 14, 2012
Holidays bring on stress when families get together and children react to the stress. Children's behavior can get out of control and criticisms from family members flourish, spoken and unspoken. Parental performance anxiety keeps the best parent in a state of tension. Bonnie Harris, Connective Parenting offers advice on how to handle the criticisms and still parent effectively.
Today's parent tends toward a more nurturing, less punitive approach than in generations past. This more progressive or connective parent is under the gun and feels the pressure to conform to more traditional parenting styles when family members show distrust of non-punitive parenting methods when children are not behaving perfectly.
When the pressure is on, even the best-educated parent may get tongue-tied and feel insecure in her decisions. She may fall prey to the criticism when faced with the disapproval of a parent or in-law. As that parent doubts herself, her child reacts to the building tension, behaves unacceptably, and the parent snaps—the cycle spins. Things that work at home, suddenly do not. Children become confused and anxious—all hell breaks loose. If the parent is uncomfortable, the children will be too.
It's difficult for a work-in-progress connective parent to look into disapproving eyes and explain what she is attempting with the child. If her parenting philosophy is different from how she was raised, her own parents may feel threatened. Not wanting to feel disapproved of, she may back down and slip back into old, discarded ways.
Parents can plan ahead. If a tough situation is anticipated, the parent can ask the children what has been hard for them in the past when families have gotten together. Discuss how the child might have handled a past situation if it were to happen again. Ask what the child needs. Share concerns and work out a plan to check in with each other.
And parents can anticipate criticism and practice what to say in return:
1. "This is a work in progress. I'm learning new ways of handling things and I'm not there yet. What I need most is your support."
2. "Sean has such different needs than any of us had. His temperament/style reacts horribly whenever he feels controlled. I'm learning what works best for both of us."
3. "I know that you want a nice calm dinner, and I don't blame you. I'm thinking it might help to feed the kids earlier so they can come and go from the table and be less bothersome."
4. "Teens today are a whole new ballgame. I've had to learn what to let go of and what not. The most important thing I've learned is that maintaining a strong relationship is key."
5. "I know it's hard when the kids are running around during cocktail hour. Would you rather have us here with the chaos or have me take them outside to play?"
6. "She gets very stressed and wound up with lots of people and excitement. It helps when I can catch those cues of her revving up and can intervene. I missed it this time so I need to take her out to help her get calm."
7. "He's a handful that's for sure. His persistence will be a great asset when he's older—if I live through it!"
8. "I know this is hard for you. Me too. I really appreciate it when you understand how much I need your support."
No matter what the occasion, parents can use these suggestions to create their own responses. Being prepared and not sweating the small stuff is important. Pick the important battles and leave the rest alone—for now. It's just one day.
About Connective Parenting:
Bonnie Harris, M.S.Ed., parent educator for 25 years, founded Connective Parenting in 2003 with the release of her first book, "When Your Kids Push Your Buttons". Connective Parenting is based on principles that focus on the child's strengths rather than inadequacies while creating a balance between the child's needs and the parent's. Harris teaches parenting workshops, professional trainings and gives speaking engagements internationally. For more information, call 603 924-6639 or visit http://www.connectiveparenting.com.