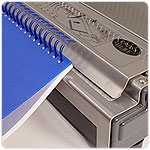 Presentations Direct can help you find the right Binding Machine, Laminator or Paper Shredder that meets your needs and your budget.
Chicago, IL (PRWEB) November 14, 2012
PresentationsDirect.com was awarded the "Best of the Best" designation for excellence in Binding Machines by Follow Media Consulting, Inc. They can be reached at 800-284-2463.
Since 1981, Presentations Direct have been helping schools, businesses, governments, and organizations with their specialized office equipment and supply needs. They are a 4-time recipient of the GBC Dealer of the Year Award and a BindRite Association Member with quality products from names such as GBC, Fellowes, Martin-Yale, Rhin-O-Tuff, AKILES, Dry-Lam and Pro-Bind.
Based in Illinois, Presentations Direct have moved into larger facilities on two occasions since their humble beginnings. They have grown because they care about their customers and they are qualified to assist with Binding, Laminating, Shredding, Paper Handling, ID Supplies and Office Accessories. Just let them know and they can help! You can also visit their website at http://www.presentationsdirect.com/ for further services information.
About Follow Media Consulting, Inc.
Named one of the best SEO Companies by Jonas Marketing, Follow Media Consulting, Inc. is a rapidly growing worldwide firm of SEO, Social Media, and Mobile Marketing Professionals. Follow Media Consulting, Inc. headquarters is located in Richmond, VA. However, our professional team is networked across the world, with regional offices across the United States, in the United Kingdom, Canada, Australia, France, South Africa, the Philippines, and India.