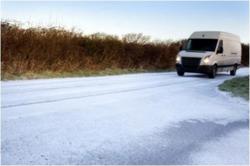 (PRWEB UK) 12 November 2012
BRADLEY Wiggins' accident was a timely reminder of the perils of being on the road at this time of the year.
The accident rate invariably takes a sharp rise in November.
Cyclists, pedestrians and motor-cyclists bear the brunt according to the Institute of Advanced Motorists, being so much more difficult to see when it's wet and dark. But the damage is done by vans, cars and trucks. Business van managers, should remind their drivers they must take care. If they drive - well, they get the message.
Less serious, but a huge cost to business, are the problems of keeping their business vans moving.
So while some of this is a bit Nanny Knows Best, readers will Know it Makes Sense:
•Van batteries take a hammering at the best of times, particularly if the owners business involves deliveries. In winter, it's worse. They should get it checked, especially if it's a couple of years old.
•In the morning, they should switch off anything electrical before they try to start the engine. Diesels in particular like the decent spin one only gets with a good belt of charge from the battery.
•They should fill the screen washer with the proper winter stuff. Even if it isn't frozen in the jets it can freeze when it hits a cold screen, leaving them blinded.
•Drivers should give all the windows a good clean, inside and out. Dirty windows mist up much quicker, and are much more affected by the dazzle from headlights, or the winter sun. And they shouldn't use their hand to wipe the screen! The greasy marks they leave behind only make matters worse.
•If there's been a fall of snow, they shouldn't just clear the screen, they should clear the bonnet and the roof to stop it blowing back onto themselves and the traffic behind. They should give trucks covered in snow an extra wide berth for the same reason.
•They should pack a cold-weather kit - high viz jacket, de-icer, scraper, torch, boots and a shovel. And a blanket and something to eat a drink if there's a risk of snow.
•Likewise, if they take medication, they should take it with them.
•They should make sure their phone's got a full charge if their van doesn't have a charger, and check that they got any phone numbers and breakdown service cards.
•Should consider winter tyres and snow chains, especially if they operate out in the country. A set of chains for a van will be less than £100 and could save them a fortune in lost business.
And finally, they should know their blackspots. Every area has its hills and dips that are the first to close in those chaotic hours after the snow falls and before the snow-ploughs get round. It's good business van management to make sure their drivers know where they are, and to have alternative routes for when the going gets tough. Or slippery.
Business Vans provides a lot of useful information such as guides on business van MOTs and DFSK van reviews.
For more information, visit Business Vans at http://www.businessvans.co.uk/