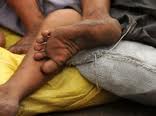 We are called upon by the bible to provide for the poor
Dallas, TX (PRWEB) November 14, 2012
Robert Beshirs Forges Volunteer efforts for the Holiday seasons
Robert Beshirs is planning a strategic effort in Dallas to assist the homeless.
Robert Beshirs is asking people in the community to donate jackets and other warm clothing. Mr. Beshirs plans to distribute all the donated items to the homeless and /or under privileged by walking the streets of Dallas during the Holiday season. Robert Beshirs stated "Even if I can help provide one jacket to an individual, I believe the work is worthwhile. As Christians, we are called, by the Bible to help the poor. This is an effort to do just that."
Robert Beshirs goal is to collect and distribute at least on hundred jackets to the homeless by Christmas.
Robert Beshirs is hoping that others will join him in his efforts. If you are interested in helping, please email Robert Beshirs at HelpTheDallasHomeless(at)gmail(dot)com