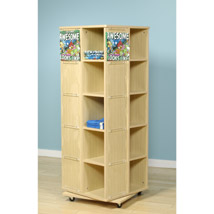 Shirts need to be neat and folded to attract the consumer says Julie Mitchell, Merchandiser
Des Plaines, IL (PRWEB) November 14, 2012
Specialty Store Services knows how hard it is for a retail store to display t-shirts, which is why Specialty Store Services has designed the Revolving T-shirt Display. This display is made out of scratch resistant melamine and acrylic to give that refined finish look to any decor. This display is 4 sided that can hold up to 20 different designs. Each side has 5 acrylic fronts with the ability to hold a sample of the shirt folded with the design showing. This display is a self-service unit so customer can pull the size needed. This unit is available in 3 colors: Black, White and Cherry and measures 23 ½" W x 23 ½" D x 63" H. The unit also has casters for easy maneuvering throughout the store.
Specialty Store Services also has a New T-shirt Frame Display that will hang right on grid or slatwall. This unit will help create an organized wall of shirts without the clutter. Each t-shirt frame measures 12" x 12" and has an acrylic front to protect from dirt or to just keep the shirts flat.
When displaying t-shirts it is important to keep them folded neat and tidy which is why Specialty Store Services has 2 different folding boards. The Flip n Fold Folding Board utilizes a simple step system to fold uniformly in less than five seconds. The Compact Folding board allows quick, clean folds. "Shirts need to be neat and folded to attract the consumer," says Julie Mitchell, Merchandiser
As always, Specialty Store Services features a selection of reduced and discounted prices on a variety of items on the website. With closeouts on Electronic Safes, security products, and other store fixtures or supplies, retailers can find everything they need at the lowest price, guaranteed.
For more information about Specialty Store Services or to request the new catalog, visit the company's website: http://www.specialtystoreservices.com