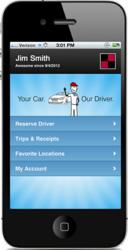 "With this app you literally have a personal driver in the palm of your hand without being on your payroll," added Kielkucki.
Ft. Lauderdale, FL (PRWEB) November 13, 2012
Tap the app for RedCap http://www.myredcap.com the leader in the [Driver as a Service (DaaS) category, which today announced the release of both its mobile website, available for any mobile browser and complimentary native personal driver apps, available for Apple and Android users in the app store.
RedCap's mobile release allows its members to reserve high quality, courteous personal drivers from their mobile device, track their driver's progress and location and manage all aspects of their RedCap account. Customers can also use RedCap's website to perform the same activities, both delivering a convenient and cost-effective method for anyone to utilize a personal driver with their own vehicle.
"We have worked hard to get the process right and simple for our customers," said David Kielkucki, RedCap chief operating officer (COO). "Speed and simplicity are key and that is hard to get right, especially with a highly dynamic business model.
"We took the full native approach at first, but quickly realized the benefits of going hybrid. Our model requires rapid changes to features and workflows; we introduce improvements and try different experiences weekly. Pure native apps didn't give us the flexibility to iterate like hybrid apps. And it's pretty darn fast and we didn't lose any features."
RedCap is easily defined through its slogan; "Everyone's Personal Driver." It is a membership-based, premium driver-on-demand service for people who value safety, convenience and privacy at an affordable price. Once a member, an individual has access to a large pool of drivers who have been vetted through a rigorous screening process who can drive the member in his or her own clean, comfortable and safe vehicle. It's a superior and more flexible alternative to a cab or an expensive Town Car.
"With this app you literally have a personal driver in the palm of your hand without being on your payroll," added Kielkucki."You can get quotes, manage reservations, monitor trips, get your drivers status plus a host of other valuable functions. Our technology can seamlessly monitor the location of our drivers and uses some really cool logic to match them with our customer's preferences. There is a lot going on behind the scenes to provide a great experience, and I think that is important to our customers"
The Company recently announced it surpassed its one-millionth minute of service which translates to north of 15,000 rides while also announcing that it has been named a finalist in South Florida Business Journal /Entrepreneur Organization of South Florida 2012 Entrepreneur Awards. The Company was nominated in the "Product/Service of the Year" category.
About RedCap
RedCap is the perfect solution to the dilemma of being with your vehicle when you can't, shouldn't or prefer not to drive. RedCap enhances the comfort, convenience and flexibility of its members by providing Personal Drivers to drive their car, both one way and roundtrip. By allowing RedCap members to put their vehicles on autopilot, RedCap offers unprecedented safety, convenience and privacy at an affordable price. RedCap Drivers are completely vetted through a rigorous screening process. For more information visit http://www.myredcap.com
###