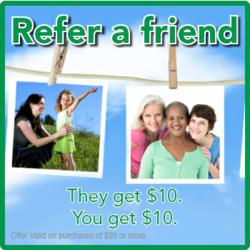 Now it's faster and easier to refer others and share good health and wellness.
Hobart, IN (PRWEB) November 15, 2012
Botanic Choice, America's oldest direct marketer of herbal remedies, vitamins and nutritional supplements, announces the launch of its new online Refer-a-Friend program.
Here's how Refer-a-Friend works.
Step 1 - Customers (or non-customers) complete a form referring family and friends.
Step 2 – Referred family or friends receive an email invitation to join the program.
Step 3 – When the referred makes a purchase, they automatically receive a $10 coupon off their first purchase, and the referrer also automatically receives a $10 coupon.
There is no limit to the number of people an individual can refer. A log-in account number is the only requirement needed to begin referring and enjoying the savings.
Refer-a-Friend is now live and can be found at http://www.botanicchoice.com/referafriend.
According to Tim Cleland, President of Indiana Botanic Gardens Inc., the company that makes the Botanic Choice line, customer referrals have been rooted in the heritage of Indiana Botanic Gardens, Inc. since 1910 as friends and family have passed along books, almanacs and catalogs to each other and from one generation to the next.
He says, "Our new Refer-a-Friend feature at BotanicChoice.com takes referrals to the next level, using the most innovative technology available. Now it's faster and easier to refer others and share good health and wellness. The $10 coupons for the referred and referrer are added bonuses where everyone wins."
About Botanic Choice
Indiana Botanic Gardens, Inc. is a leading retailer of more than 500 high-quality herbal remedies, vitamins, nutritional supplements, and liquid herbal extracts which are sold through their catalogs, web site http://www.BotanicChoice.com, and retail store at 3401 West 37th Ave, Hobart, Indiana (800-644-8327). Free catalogs are available upon request.