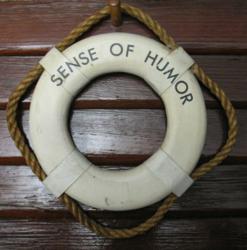 Humor can make the unbearable a little more bearable. The sooner humor returns, the sooner healing happens.
Columbus, OH (PRWEB) November 17, 2012
World Laughter Tour psychologist, Steve Wilson, says that resilience --the ability to cope, heal and recover from traumatic stress-- often involves humor and laughter. For a time following a disaster, laughter may not be accessible. And, sometimes the trauma is so overwhelming that our hearts go numb. Scientists report that most people will bounce back; some are actually stronger after an extremely distressing experience. A very small percentage have great difficulty coming back to normal functioning.
"Historically," says Wilson, "humor and laughter --the innate human ability of seeing and reacting to the less serious side of life's challenges-- will crop up after disaster events, but comic relief comes to different people at different times and in different ways." When laughter and humor do come back, they have positive biological and psychological results that Wilson says are therapeutic allies.
An award-winning internationally recognized contributor to the field of applied and therapeutic, Wilson teaches that humor is a valuable part of emotional recovery. In classes on therapeutic humor, Wilson teaches the secrets to this eventual well being. The author of "Super Humor Power," he is the founder of World Laughter Tour, he has taught thousands of individuals all around the world how to lighten up and live better.
"People throughout history have used humor, stories, music, dancing to cope with human tragedy," said Melina McLain, a San Francisco-based disaster response coordinator for the United Church of Christ. "Tapping into our own creativity makes us feel less powerless. The psychologist Carl Jung said, art is the cure for suffering."
A 2010 study of hurricane Katrina by Bridgette Boe O'Connor concluded, "disaster management professionals, including relief workers, should at the very least expect humor and might even encourage it depending on the situation."
Following Katrina, humor became the tool of choice to frame the discussion of the storm and its aftermath. Initially utilizing graffiti and signage, and later evolving into items such as tee-shirts and bumper stickers, humor was by turns cathartic and wry, hopeful, angry, and politically aggressive.
"Humor gives individuals perspective, and laughter can signal improvement. Humor helps express outrage, but Wilson cautions, "sensitivity to timing and personal taste are critical. After all, what is 'funny' varies from one individual to another. It's different jokes for different folks.
How soon is too soon for joking and laughing? There is no precise formula for calculating when to bring on the funny stuff. In the USA, following the 9/11 attacks, the late-night comedians went "dark" for a week. Following hurricanes Andrew (1992) and Sandy (2012), jokes were evident relatively quickly.
In his "Full Belly Laughter" call-to-action, Wilson points out, "There are conditions and natural human emotions that block us from seeing humor or feeling like laughing." They make humor inappropriate, untimely, and in bad taste. "Fortunately," Wilson adds, "these are almost always temporary."
Some might ask, "How can you laugh at a time like this?" Some spiritual teachers might reply with a question, "How can you not laugh at a time like this?" The Old Testament teaches that there is a time to laugh and a time to cry. Sometimes, we find ourselves crying and laughing at the same time.
Some people will find humor useful for regaining their sense of balance. Others might use jokes to express their anger. Many will find relief in the distractions created of humor, laughter, and play. And, laughter might be triggered by memories of better times. As George Bernhard Shaw said, life does not cease to be funny when people die any more than it ceases to be serious when people laugh. So, typically, sooner or later, laughter is possible again, and necessary.
Humor should be invited but should not be rushed. Wilson cautions, "Sensitivity and care must be exercised. But, when an opening for laughter and humor is at hand, try to accept the invitation," Wilson advises. "Don't analyze it and don't feel guilty. Even if they are fleeting, grab on to those opportunities for relief and healing."
WORLD LAUGHTER TOUR - Think Globally, Laugh Locally
Established in 1998, World Laughter Tour, Inc., is a rich resource for improving productivity, health, and well being in business, healthcare and education. It continues to be a source of inspiration from psychologist Steve Wilson who is also known as The Joyologist and Cheerman of the Bored. Wilson has spent nearly 50 years in psychological practice, and 30 years specializing in applied and therapeutic humor. It offers resources, education, and training programs with a humanitarian mission, intertwining science & ancient wisdom with substance & humor in ways you'd never imagine. Wilson believes that together we can lead the world to health, happiness and peace through laughter. More than six thousand people have completed his unique training in how to create therapeutic laughter, and tens of thousands more around the world have been uplifted by his talks, classes, books, and articles. For more information http://www.worldlaughtertour.com