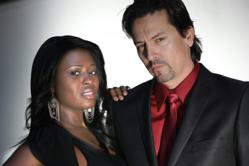 We don't WAIT for anything to happen, we MAKE things happen.
Los Angeles, CA (PRWEB) November 13, 2012
Dion Wade and Tennille Williams are quickly becoming Hollywood's Newest Power Couple; but the road to success wasn't an easy one to travel. In November 2011 Dion and Tennille decided to take matters into their own hands, tired of waiting around for someone to "give" them an opportunity to work in this business, they decided to create one. Together they tossed around ideas and story topics then came to the conclusion that they wanted to make a film, a film that could possibly make a difference in someone's life, a film that would bring awareness to an issue. That's when "Ana's Story" was created and developed under Dion and Tennille's production company BAB Productions (http://www.babproduction.com) Ana's Story is a movie about a woman that has been forced into a life of prostitution and is being held hostage into this life by her pimp/boyfriend. Ana is befriended by Detective Stone (played by veteran actor Randy Brooks) an old friend of her father's who will stop at nothing to help protect Ana. During the month of writing Ana's Story, Tennille spent hours doing research on prostitutes, she and Dion managed to interview several women that work as prostitutes on the streets of LA to get an understanding as to why some women do this and how did they get trapped in such a dangerous lifestyle. After hearing these women's stories, Dion and Tennille were inspired and determined to show a more realistic side of prostitution and the brutal lives these women live. While being wrapped up in these fascinating stories, Dion and Tennille put their everyday lives on hold to bring these women's stories to life.
In a recent interview Dion and Tennille talked about being homeless while making this film:
[i]"We were homeless during the production of Ana's Story. Every penny that we had we put into this production. It was winter time during filming and we were sleeping in our car and using my husband's work truck as our changing room. One night it was too cold to sleep outside so the homeowner who let us use her house to film in one day allowed us to sleep on her floor. Everyday before we headed to set we would stop by gas station or Cafe to clean up. Being comfortable was not a priority for us at that time, we just knew we had to finish that film and get our cast and crew paid. Being the producer, I wanted everyone to feel like they were on the set of a million dollar production, they didn't need to know that the director and producer were a homeless couple taking showers in a McDonald's sink. Once we picture wrapped, we wanted to get this film edited and packaged immediately. Everyone said that we were crazy, that our priorities weren't in order and that we should wait, but we're a little impatient and we don't WAIT for anything to happen, we MAKE things happen.
Within seven months, Ana's Story was written, cast, completed, and sold! That doesn't happen by waiting" ~ Tennille[/i]
"Ana's Story" has become a made for TV movie and will be premiering in early 2013 on TSC World Vision, a national television network, that has labeled it's self as "The Home of Independent Filmmakers". TSC World Vision is a network of the next generation of seasoned, assorted and innovative writers, directors, producers, and filmmakers from all over America. TSC World Vision has a full line-up of different programs that targets a non-specified demographic. The network produces a variety of original programs that are specifically created to suit a massive audience of all ages and nationalities.
The network supports independent artists by providing a home for those who would like to submit their creative works to get an equal opportunity to have their work seen and picked up by a national network.
The network will officially launch in the month of January 2013. TSC World Vision will air 24 hours a day 7 days a week airing in over thirty states.
To learn more about TSC World Vision visit their website at: http://www.tscworldvision.com
###
About BAB Productions
BAB Productions is a creative and dynamic independent film and commercial production company located in Hollywood, CA the heart of the entertainment industry. BAB has produced and developed several independent films, commercials, and talk shows under its supervision.
To set up an interview with Dion and Tennille contact:
Tracy Daniels
818-381-9917
virgopr(at)gmail(dot)com