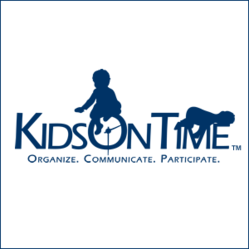 Kids On Time is truly the evolution of co-parenting communications.
Portland, ME (PRWEB) November 27, 2012
Kidsontime.com announced today the launch of their new cloud based co-parenting application. Revolutionizing the way that parents communicate with one another, eliminating some of the stresses associated with former spouse communications and keeping the wellbeing of the children at the forefront are all part of the formula that is the makeup of kids on time. The robust online organizational solution puts the family schedule, kids' events, school and medical information all at the parents' fingertips. No more "he said" "she said" as the messenger feature offers a portal for parents to communicate that is date and time stamped. Arguments are minimized and not overheard by the kids. A uniform parental front is formed, so the kids receive a consistent message from both parents. The messenger feature alone makes the parents' lives less stressful which in turn makes the lives of the kids more enriched. Using the latest cloud computing technology, Kids On Time aids in conflict resolution, directing each co-parent to focus on the issue or situation at hand. It is a powerful and comprehensive communications tool that is user friendly with undeniable value.
Attorneys, social workers, other administrative overseers as well as caregivers can all be invited to join a family's Kids On Time account to optimize communications and further enrich and ensure the betterment of the kids' lives.
"As we introduce more and more families to Kids On Time, our mission remains the same. Offer a quality application that allows co-parents to communicate and organize their new life more effectively, ensuring that the children's well-being is always at the forefront. Kids On Time is truly the evolution of co-parenting communications. Transforming the way divorced parents and other blended families handle conflict resolution through their easy to use and affordable on line communications solution." Boasts Anne Sleeman, President and co-founder Kidsontime.com
Kids On Time connects co-parenting couples through the use of technology to help them communicate better and more effectively for the purpose of raising their children.
According to Sleeman; "Our Vision is to be the world's leading developer of co-parenting applications. Using our portfolio of talent and tools to differentiate our content and services, we seek to develop the most creative and innovative co-parenting software user experience in the world."
Kidsontime.com is currently available as a web based application. Mobile and tablet applications are currently under development and are slated for release before years end.
With Kids On Time un-paralleled quality application, management believes that the new application will quickly become a "must have" for anyone in a co-parenting situation. It further realized that the lives of those who use it will immediately be made easier.
About Kids On Time, Inc.
Kids On Time, Inc. with offices in Portland Maine and Phoenix Arizona, offers a suite of web-based applications for co-parents and blended families. The applications help families in a multitude of ways. At the focal point of their application are the children affected by divorce. Their application assures that the communications between co-parents will be less combative and improved overall. The family, as a unit, will find that they become further organized. Parents, being better informed, will have greater opportunity to increase their participation in the lives of their children. At Kids On Time, they have created their suite of products to work seamlessly together, to eliminate a lot of the stress when communicating with co-parents, and ultimately, to make life just a little bit easier. To learn more, visit them online at http://www.kidsontime.com or on Facebook at Facebook.com/mykidsontime.
To contact kids on time directly call 1-888-603-5160 or email: info(at)kidsontime(dot)com
###